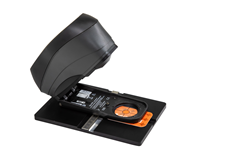 Working directly with our customers, we created the Payment Card Holder to help press operators properly align a card and take multiple spot measurements. This makes for a repeatable process across shifts and facilities.
GRAND RAPIDS, Mich. (PRWEB) October 27, 2020
X-Rite Incorporated and Pantone LLC, global leaders in color science and technology, today announced a new fixture that helps printers and manufacturers measure and control color on credit, gift, ID, loyalty, hotel key, and membership cards. The new Payment Card Holder works with the eXact Family and Ci60 Series of portable handheld devices to securely position and align the card for an accurate spectral reading.
"Brands use eye-catching colors, logos, metallic foils, and artwork to make their gift, loyalty, promotional, and credit cards stand out," said Michael Beering, Product Manager, X-Rite and Pantone. "Any mistake in production can be costly and force the entire job to be scrapped. Working directly with our customers, we created the Payment Card Holder to help press operators properly align a card and take multiple spot measurements. This makes for a repeatable process across shifts and facilities. It also helps operators identify quality control issues early in the process."
X-Rite's Payment Card Holder allows press operators to secure a card and align a handheld spectrophotometer at precise points of measurement to evaluate color accuracy. The ruler features a millimeter scale that enables operators to capture measurements at specified locations for a repeatable process across shifts and manufacturing facilities. As a result, printers and manufacturers can adhere to standard operating procedures for consistent measurements, even across operators, shifts, and production sites.
Printers can use the new fixture with the Ci64, Ci62, Ci60, or eXact Family of spectrophotometers to measure a wide variety of inks and foils commonly used in metallic or plastic cards. After each measurement, users see actionable pass/fail data on the device screen and can import data into InkFormulation Software and quality control software such as ColorCert and Color iQC.
"The ability to take accurate and consistent measurements on payment, gift, ID, or key cards and integrate that data into ink formulation and quality control software helps streamline the manufacturing process. Printers can use the data to identify color drifts and make corrections to ensure they stay within color tolerances. This saves time, costs, and speeds production," continued Beering.
For more information on X-Rite's Payment Card Holder visit https://www.xrite.com/categories/parts-accessories/payment-card-holder
About X-Rite
Founded in 1958, X-Rite Incorporated is a global leader in the science and technology of color and appearance. With Pantone, X-Rite employs more than 800 people in 11 countries. The company's corporate headquarters are located in Grand Rapids, Mich., with regional headquarters in Europe and Asia and service centers across Europe, the Middle East, Asia, and the Americas. X-Rite offers a full range of solutions used by manufacturers, retailers, printers, photographers and graphic design houses to achieve precise management and communication of color and appearance throughout their processes. X-Rite products and services are recognized standards in the printing, packaging, photography, graphic design, video, automotive, paints, plastics, textiles and medical industries. For further information, please visit http://www.xrite.com
About Pantone
Pantone provides the universal language of color that enables color-critical decisions through every stage of the workflow for brands and manufacturers. More than 10 million designers and producers around the world rely on Pantone products and services to help define, communicate and control color from inspiration to realization – leveraging advanced X-Rite technology to achieve color consistency across various materials and finishes for graphics, fashion and product design. Pantone Standards feature digital and physical color specification and workflow tools. The Pantone Color Institute™ provides customized color standards, brand identity and product color consulting as well as trend forecasting inclusive of Pantone Color of the Year, Fashion Runway Color Trend Reports, color psychology and more. Pantone B2B Licensing incorporates the Pantone Color System into different products and services, enabling licensees to communicate and reproduce certified Pantone values and improve efficiencies for their users. Pantone Lifestyle brings color and design together across apparel, home, and accessories. Learn more at http://www.pantone.com.
# # #
©2020 X-Rite, Inc. All rights reserved. X-Rite is a registered trademark of X-Rite, Inc. All other trademarks are the property of their respective owners. PANTONE® and other Pantone trademarks are the property of Pantone LLC.