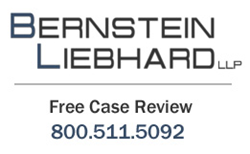 The allegations put forth in this complaint also echo those included in a number of other Xarelto lawsuits that have been filed in U.S. courts in recent months.
New York, New York (PRWEB) August 21, 2014
Xarelto lawsuit (http://www.xareltolawsuitcenter.com/) filings that allege the blood thinner caused patients to suffer uncontrollable internal bleeding and other serious injuries continue to mount in U.S. courts, Bernstein Liebhard LLP reports. According to court documents, a wrongful death lawsuit was filed on August 14th in U.S. District Court, Easter District of New York by the family of a Tennessee man who died due to a bleeding event that was allegedly caused by Xarelto. Among other thing, the complaint alleges that the drug's manufacturers were aware of data from Xarelto's clinical trials that indicated the medication was associated with higher rates of fatal gastrointestinal bleeding compared to warfarin, a blood thinner that has been in use for decades. The complaint further asserts that advertising for Xarelto suggested that the drug was safer and easier to use than other blood thinners, and failed to warn patients that there was no approved antidote to stop internal bleeding that can sometimes occur with its use. (Case No. 2:14-cv-00159-cr)
"Our Firm has heard from a number of individuals who claim to have experienced uncontrollable internal bleeding from Xarelto. The allegations put forth in this complaint also echo those included in a number of other Xarelto lawsuits that have been filed in U.S. courts in recent months," says Bernstein Liebhard LLP, a nationwide law firm representing victims of defective drugs and medical devices. The Firm is currently offering Xarelto case reviews to people who allegedly suffered serious injuries from the blood thinner, including uncontrollable bleeding, strokes, deep vein thrombosis or pulmonary embolism.
Xarelto Bleeding Allegations
According to court documents, Xarelto belongs to a new class of blood thinners known as direct thrombin inhibitors. Like any anticoagulant, Xarelto can sometimes cause patients to experience internal bleeding. However, no antidote has yet been approved for Xarelto bleeding. Earlier this month, a study published in the Journal of Neurosurgery found that internal bleeding associated with Xarelto is more difficult to stop when compared to some other blood thinners. Among other things, the medication has a short half-life, requiring doctors to act more quickly to manage brain bleeds. The study also found that dialysis is not an effective way to reverse Xarelto bleeding. By contrast, bleeding from warfarin can be stopped via the administration of vitamin K.*
According to a recent Reuters report, the New York Xarelto lawsuit is just one of several cases pending in U.S. courts that involve the medication .** Court documents indicate that a number of these claims similarly allege that the medication was wrongly marketed as an improvement over warfarin when it was first launched on the U.S. market in 2011.
Last month, the Institute for Safe Medicine Practices reported that adverse events associated with the use of Xarelto are on the rise. According to data from the U.S. Food & Drug Administration (FDA), the agency received a total of 680 Xarelto adverse event reports in the first quarter of 2013. For the first time, reports of Xarelto complications outpaced those associated with Pradaxa, another blood thinner in the same class, according to the ISMP.***
Individuals who suffered uncontrollable episodes of internal bleeding allegedly associated with Xarelto may be entitled to take legal action against the drug's manufacturers. Learn more about filing a Xarelto lawsuit by visiting Bernstein Liebhard LLP's website, or by calling 800-511-5092 to schedule a free, no obligation case review.
*thejns.org/doi/pdf/10.3171/2014.8.paradigm, The Journal of Neurosurgery, August 1, 2014
**reuters.com/article/2014/06/14/us-bayer-suit-idUSKBN0EP0HW20140614, Reuters.com, June 14, 2014.
***ismp.org/quarterwatch/pdfs/2013Q1.pdf, Institute for Safe Medication Practices, May 7, 2014.
About Bernstein Liebhard LLP
Bernstein Liebhard LLP is a New York-based law firm exclusively representing injured persons in complex individual and class action lawsuits nationwide since 1993. As a national law firm, Bernstein Liebhard LLP possesses all of the legal and financial resources required to successfully challenge billion dollar pharmaceutical and medical device companies. As a result, our attorneys and legal staff have been able to recover more than $3 billion on behalf of our clients. The Firm has been named by The National Law Journal to the Plaintiffs' Hot List, recognizing the top plaintiffs firms in the country, for the past 12 consecutive years. Bernstein Liebhard LLP is the only firm in the country to be named to this prestigious list every year since it was first published in 2003.
Bernstein Liebhard LLP
10 East 40th Street
New York, New York 10016
800-511-5092
ATTORNEY ADVERTISING. © 2014 Bernstein Liebhard LLP. The law firm responsible for this advertisement is Bernstein Liebhard LLP, 10 East 40th Street, New York, New York 10016, 800-511-5092. Prior results do not guarantee or predict a similar outcome with respect to any future matter.
Contact Information:
Felecia L. Stern, Esq.
Bernstein Liebhard LLP
info (at)consumerinjurylawyers(dot)com
http://www.xareltolawsuitcenter.com/
https://plus.google.com/115936073311125306742?rel=author