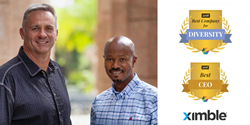 "By developing a culture where company-wide communication is highly valued, we've been able to draw upon the ideas of our organization as a whole, rather than from a few individuals." Peter Swaniker, CEO of Ximble
CARLSBAD, Calif. (PRWEB) December 13, 2018
Ximble, a top-rated software company specializing in online employee scheduling and time tracking, is proud to announce that it has been recognized for two Comparably Culture Awards in 2018. Among all small to mid-size companies across the United States, Ximble received an A+ rating as a Top 50 Best Company in Diversity and #43 for Best CEOs.
"Behind all the success we've had at Ximble are the passionate team members that I've had the great privilege to work with," said Peter Swaniker, CEO of Ximble. "By developing a culture where company-wide communication is highly valued, we've been able to draw upon the ideas of our organization as a whole, rather than from a few individuals. While I'm honored to receive the Best CEO award, it wouldn't have been possible without the genuinely wonderful and diverse team at Ximble."
Ximble has been repeatedly recognized for its innovative workforce management solutions, including most recently by HRTech Outlook, Get App and as a finalist in the SaaS Awards and Cloud Awards international competition.
Ximble employees volunteered the following feedback about their company:
"Our leadership team works with us as a part of a 'big family', looking for ways to create and maintain a positive and wonderful work culture for all the employees. They always listen and pay attention and react in the best possible ways for all of us to feel good and to keep doing our best."
"I love what I do and go to work happy in a great environment, surrounded by smart, highly educated people. Every day is a new life and work lesson - Never give up!"
"My opinions, and suggestions, matter at Ximble. Everyone here listens. That's important."
"I like their simplicity, responsibility and dedication."
"The working environment is very positive and relaxed. The team is highly motivated to do their work."
The Comparably Awards honor businesses that are helping to drive positive culture change across companies large and small. Rankings are derived from sentiment ratings provided by employees who anonymously rate their employers on Comparably.com throughout the year. There are no fees or costs associated with participating, nor is nomination required.
"Businesses are better for being diverse and reflecting the communities they serve," said Jason Nazar, Comparably CEO. "Comparably's Best Companies for Diversity are organizations that have been given the highest ratings of approval by their employees of color. Their focus on and inclusion of racial diversity are clear examples of progress in the workplace."
About Ximble
Ximble is a powerful staff scheduling and employee time tracking tool. Catering to small and medium sized business, Ximble's intutive and easy-to-use design takes the guesswork out of staff time management. Scheduling takes seconds, and employees can easily swap shifts or request time off, on any device. Ximble offer multiple methods by which employees can clock in, from desktop and mobile device, to facial recognition and even facebook. Integrating with many leading accounting, payroll, Point of Sale, and HR systems, Ximble offers low pricing and high levels of customer service. For a 14-day free trial, visit Ximble.com