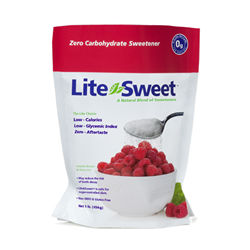 Consumers demand for natural derived sweeteners continues to grow and our mission in creating Lite&Sweet™ is to bring consumers a sugar replacement sweetener blend that brings excellent heath benefits
American Fork, Utah (PRWEB) October 02, 2014
Xlear Inc., the company behind the #1 selling natural sweetener XyloSweet™, introduces a new natural sweetener Lite&Sweet™. Lite&Sweet™ provides the sweetness everyone craves and loves without the calories and chemical aftertaste that everyone associates with sugar substitutes. Lite&Sweet™ is the latest addition to Xlear's natural sweetener product line. It's a proprietary blended of high quality 100% pure erythritol and pharmaceutical grade xylitol derived from the purest sources.
Lite&Sweet™ looks and tastes just like sugar – yet contains no bitter aftertaste and can be readily used as a sugar replacement in virtually any recipe. It contains no additives, no flow-agents, no fillers, and has zero grams of net carbs. In comparison, sugar contains 15 calories per teaspoon and XyloSweet™ 10 calories per teaspoon; Lite&Sweet™ has only 3 calories per teaspoon.
Lite&Sweet™ is an effective xylitol sweetener for anyone concerned with the overuse of sugar because it has a low calorie count while assisting to maintain a healthy body weight. Lite&Sweet™ is approximately 85% as sweet as sugar and is ideal and sweet enough that most people will use it as a one to one replacement in foods prepared for weight loss and diabetics. Lite&Sweet™ is metabolized without insulin and creates a significantly lower glycemic impact. For example, sugar has an 85-to 100-glycemic index compared to Lite&Sweet™ glycemic index of 3.
"Consumers demand for natural derived sweeteners continues to grow and our mission in creating Lite&Sweet™ is to bring consumers a sugar replacement sweetener blend that brings excellent heath benefits," says Tom Macdonald, CEO at Xlear.
Lite&Sweet™ has a delicious 3 calories per serving characteristic, very low glycemic index of 3, is easier on digestive system unlike other sweeteners and is the ideal sweetener for everyone to enjoy. Lite&Sweet™ also has a high digestive tolerance, as it is rapidly absorbed in the small intestine and not likely to cause laxation and gaseous side effects.
Lite&Sweet™ was introduced at the Natural Products Expo East show in September 2014. This proprietary blend of erythritol and xylitol was developed in the company's new state of the art facility in American Fork, Utah. The initial release of Lite&Sweet™ is available in bags of 1 pound, 3 pound, and 100 count sachet to health food retailers everywhere and are perfect for home, work or school.
About Xlear, Inc.
Founded in 2000, Xlear Inc. (pronounced "clear') is recognized as the leading manufacturer of natural, health promoting xylitol products. Xlear Inc. is committed to providing consumers with the highest quality products while striving to educate medical and dental professionals, as well their patients, about the overall health benefits of their natural sweeteners. Xlear Inc. is supported by a team of doctors, hygienists and scientists who advocate the use and benefits of xylitol through continuous clinical research. Xlear Inc. offers Xlear Nasal Spray™ an award-winning, patented saline and xylitol nasal solution with xylitol; a complete line of oral health products offered under the Spry Dental Defense System™ brand; XyloSweet™, raw xylitol crystals used as a sugar substitute in cooking, baking and general consumption; and SparX™ Candy, a growing line of health, xylitol-based candies. Xlear Inc. is based in American Fork, Utah. For more information visit http://www.Xlear.com.