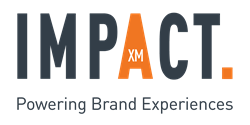 XM-IQ helped us show our management how trade shows can fill the sales funnel with high qualified leads. That justifies our investment in our important industry shows.
DAYTON, N.J. (PRWEB) November 02, 2018
Impact XM, a global experiential marketing agency with a forty-five-year heritage of crafting strategic audience engagements that power brand experiences, today announced expansion of its XM-IQ product offering.
Effective ROI Insights
XM-IQ, Impact XM's innovative digital engagement platform for experiential marketers, demonstrates higher performance for their client's event programs. XM-IQ is the digital attendee engagement platform that helps experiential marketers get significantly better results from trade shows, conferences and activations.
"Using XM-IQ we were able to capture and qualify nearly 2500 leads in only 7 live hours," said a representative from an Impact XM client in the Real Estate industry. "More importantly, XM-IQ engagement technology delivered better qualified attendees driving ROI of our most successful show."
Another Impact XM client saw a 25% increase in qualified leads from their previous trade show after deploying the XM-IQ solution. "XM-IQ helped us show our management how trade shows can fill the sales funnel with high qualified leads. That justifies our investment in our important industry shows," added a client representative from the Oil and Gas industry.
XM-IQ delivers more customer interactions, higher qualified leads, and a better attendee experience through:

Cost-effective attractants using gamification and contests
Attendee self-qualification tools
Matching messages and offers with attendee needs
Delivering traffic mapping and measurement
"We're thrilled with the performance of XM-IQ and the increased quantity and quality of leads it has been able to deliver to our customers at events. XM-IQ proves that data-enabled face-to-face marketing can give our clients an unfair advantage against their competition," said Jared Pollacco, President of Impact XM.
XM-IQ Platform Expansions
Impact XM continues to build out the XM-IQ engagement platform and has added important functions including an e-Source center and an exit survey program.
The e-Source program technology allows event staff and attendees to quickly access, browse, and preview an exhibitor's marketing documents. Clients can store and present brochures, presentations, videos, websites, and other documents in a variety of common digital file formats. Attendees can send themselves documents through an on-screen email shopping cart feature. Best of all, XM-IQ provides the client metrics on attendee requests that enable highly targeted follow up by client sales staff.
Further expansion to the XM-IQ platform includes a cost-conscious exit survey. Placed in strategic locations of the booth, event space, or retail location, a self-contained screen and kiosk provides a simple one-touch response to a question using a 1-10 scale as the attendee leaves your space. Through a wireless connection, real-time results can be monitored by the client.
"For marketers who want to better target the right message to the right customer and qualify their visitors more efficiently, all while understanding the effectiveness of their experiential marketing budget, XM-IQ is an excellent tool," added Pollacco. "We believe that XM-IQ will is a digital accelerant that will take face-to-face marketing to the next level in relevance and performance."
For more information, visit https://impact-xm.com/#xmiq
About Impact XM (http://www.impact-xm.com)
Impact XM crafts strategically driven, creatively focused brand stories through live and digital experiential marketing that delivers measurable results for its clients.
Trusted by some of the world's most respected organizations, the agency has a forty-four-year heritage of insightful strategy, brilliant creative, smart fulfillment and purposeful metrics across business and consumer trade shows, user conferences, event activations and digital engagements. Impact XM clients operate across a variety of industries, including the Aviation, Healthcare, Technology and Industrial sectors.
Headquartered in New Jersey, Impact XM maintains locations in Toronto, New Jersey, Los Angeles, Las Vegas, Washington D.C. and Zurich. More information can be found at: http://www.impact-xm.com.