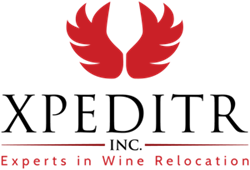 ELIZABETH, N.J. (PRWEB) September 19, 2018
XERT, the Xpeditr Emergency Response Team, is ready to help wine collectors protect and preserve their liquid treasures from natural disasters. Established in 2012 following the devastation of hurricane Sandy, the team is made up of 20 fearless wine experts positioned and ready to extract wine collections from potential danger zones before disaster strikes.
Last year alone the Xpeditr team rescued over 25,000 bottles worth more than $5 million during hurricanes Irma and Harvey, and more than 6,000 bottles during wild fire Tubbs. This hurricane season the team stepped into action before hurricane Florence and moved 3000 bottles worth $2.5 million to safe and secure storage facilities in North Carolina. As experts in wine relocation services and the leading door-to-door transport provider in the wine-shipping industry, Xpeditr is no stranger to the strict conditions required in the transportation and storage of fine wines to ensure bottles are preserved and conditions are optimal for ageing.
The Xpeditr team will examine the wine cellar in a client's home, personally assess the structure and storage system, and identify any weak points or deficiencies. Emergency preparedness is also addressed including the availability of supplies, a generator and waterproof extension cords. Following the assessment, the team will explain whether they believe the collection is safe to be kept in the cellar on-site, or suggest evacuation to a secure, climate-controlled storage facility.
Should emergency wine transportation and storage be recommended, the team will facilitate and manage the process end-to-end. This starts with a detailed inventory of all bottles in the collection, and the development of a detailed evacuation plan. Xpeditr has access to secure storage facilities across the country, and has personally vetted every facility to ensure they meet requirements for security, temperature and humidity control.
If an emergency occurs all that is required is a call to XERT to initiate the evacuation plan. The Xpeditr team will package bottles in wine boxes specifically designed with corrugated, double walls to ensure bottles are protected. Wine boxes are then loaded on specialized trucks designed for temperature-controlled wine transportation and sent on their way to the nearest storage facility for safekeeping.
A wine collection is a lifelong investment that needs protection; don't wait for a natural disaster to strike, get an evacuation plan in place now!
More About Xpeditr Inc. Services:
Founded in 2005 by a team of experts, Xpeditr offers clients a streamlined, door-to-door solution for wine relocation across USA and Canada. Xpeditr understands that when liquid treasures are at risk the potential for financial loss is felt by all parties involved, including local and national charities who often rely on the donations and funds raised at wine auctions.
Founded in 2005, Xpeditr Inc. is trusted for their expertise and utmost professionalism, and renown in the industry for their premium fine wine relocation services and climate-controlled storage solutions. The team is on a mission to protect and preserve fine wines, and continues to develop new services to meet client needs including wine insurance policies, shipping alternatives, XERT, and My Private Sommelier Services.