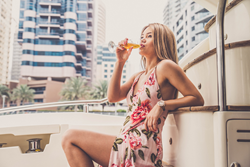 ELIZABETH, N.J. (PRWEB) August 28, 2018
Renown for excellence in wine transportation across the USA and Canada, Xpeditr Inc. now delivers to super yachts across North America. Whether it's a sports team traveling by boat or a sailing crew traversing the seas, Xpeditr provides hassle free, temperature-controlled wine delivery to tax-free ports, and will even load the bottles onboard.
Insured and bonded, Xpeditr takes special care of fine wine transportation from start to finish. First, wine bottles are packed in corrugated wine boxes that allow for climate control in addition to carefully protecting each individual bottle from damage. Then, boxes are carefully loaded in trucks specifically designed for temperature-controlled wine transportation ensuring wine boxes are secured, and temperature and humidity levels are stable so wine does not spoil. Upon arrival at the tax-free port wine boxes are unloaded and bottles carefully stored in the onboard wine cellar.
Clients are at ease knowing that their liquid treasures are expertly managed with Xpeditr's end-to-end wine transportation services. Logistics are a specialty at Xpeditr; transportation is mapped, timed and micro-chipped to ensure all bottles arrive at their destination on time, and in perfect condition.
Should a client need assistance with wine pairings, Xpeditr also provides professional sommelier services where an expert sommelier creates a multi-course wine menu unique to any meal or occasion, transforming a simple dinner at sea into an extravagant wine and dine experience that guests will remember.
More About Xpeditr Inc. Wine Transportation:
Founded in 2005, Xpeditr Inc. is renown in the industry for their premium wine relocation services, climate-controlled storage solutions, and is the premiere choice for wine lovers across North America.
Xpeditr employees are themselves fine wine collectors who not only understand the inherent importance of controlled conditions in the aging process, but also appreciate the bouquet, body and finish of a perfectly aged wine. Staffed with sommeliers, logistics, transportation and warehouse professionals, the Xpeditr team provides stress free, custom tailored solutions for all wine storage and transportation needs.