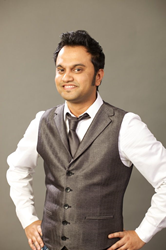 "The valuable data Xplore will deliver provides actionable insights to key sectors." -- Mitz Banarjee
REDMOND, Wash. (PRWEB) January 18, 2023
Xplore Inc., a space company providing commercial data today announced that Mitz Banarjee will be joining as a strategic business advisor. Mr. Banarjee brings over 20 years of expertise in managing people, performance, product innovation and strategy for SaaS and technology companies.
"The valuable data Xplore will deliver provides actionable insights to key sectors including agriculture, defense, energy, finance, forestry, insurance, intelligence, media, mining and science," said Mr. Banarjee, adding, "I look forward to helping maximize their services business so they are best positioned to deliver transformational insights to customers."
Commercial space companies like Xplore move at a fast pace, and Banarjee's past global business operations experience will help guide customer growth at Xplore, and further its ability to accelerate development and scale.
Lisa Rich, Xplore's Founder and Chief Operating Officer said, "Addressing the global market for Earth observation data services at Xplore will require operational expertise across the board. As the XCRAFT generates data, we will need to put systems in place to support sales, marketing, HR, strategy, partnerships, product management, IT and facilities."
She continued, "Mitz is an excellent fit for Xplore's advisor team, and we will benefit from his expertise, business networking, and high level of energy and enthusiasm. In particular, his operations and data background align well with our goals."
Banarjee's most recent executive role was at Workiva, which during his 12-year tenure went from startup to IPO and became a publicly traded company with a $4B market cap on the NYSE. He served as Chief Customer Officer and Executive Vice President, for Europe, Middle East, and Africa (EMEA). He held prior leadership positions at YODLE, AT&T, and AOL. Banarjee graduated from Stanford Executive Program and is currently pursuing his directorship certification with the National Association of Corporate Directors.
About Xplore
Xplore provides unique data products to our customers with insights, intelligence, inspiration, discovery from their satellite constellation. The XCRAFT satellites carry remote sensing instruments including optical, video, and hyperspectral sensors to produce valuable data and insights for our customers. Additionally, its edge computing capability enables the creation of data fusion products and insights to be extracted on-orbit, reducing latency and data transmission costs. Visit: https://www.xplore.com