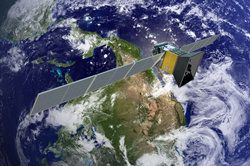 "Xplore is honored to be selected for this new and important national capability." – Lisa Rich, Xplore Founder & COO
REDMOND, Wash. (PRWEB) March 22, 2023
Xplore Inc., a space company providing commercial data today announced that the National Reconnaissance Office (NRO) has awarded Xplore a contract to evaluate the company's Commercial Hyperspectral Capabilities (CHC) under the agency's Broad Agency Announcement (BAA) for its Strategic Commercial Enhancements effort. This award represents the first stage of a process to assess the potential of Xplore supplying commercial hyperspectral data to the NRO.
The NRO's Strategic Commercial Enhancements BAA Framework is designed to reach across disciplines and the global commercial remote sensing market to drive innovation, explore new phenomenologies, and ultimately, to ensure that the U.S. government has access to the best available commercial remote sensing capabilities.
"Xplore is honored to be selected as an NRO mission partner for this new and important national capability," said Lisa Rich, Founder and COO of Xplore. "We are committed to advancing the state of the art by providing the NRO with affordable, available, and scalable hyperspectral data products that can be tailored to their specific requirements."
Xplore is building a multi-sensor satellite constellation as the centerpiece of an end-to-end commercial data service to deliver diverse, high-value and timely Earth observation data to the NRO, the US GEOINT community, distribution partners and a range of other customers. Xplore's inaugural launch will include novel hyperspectral capabilities that provide a level of taskability and tailorability not present in single-sensor satellites. These unique hyperspectral and other sensing capabilities are made possible with the XCRAFT® spacecraft platform designed and built in-house by Xplore and efficiently-operated using Xplore's Major Tom® cloud-based mission control software.
About the NRO
For sixty years, the NRO has developed, acquired, launched and operated the satellites that are the foundation for America's advantage and strength in space. Using a diversified architecture of spacecraft, NRO collects and delivers the best space-based intelligence, surveillance, and reconnaissance content on the planet. Its customers include every member of the Intelligence Community, Department of Defense, two dozen domestic agencies, warfighters, decision- makers, and policymakers. Learn more at NRO.gov
About Xplore
Xplore provides unique data products to our customers with insights, intelligence, inspiration, discovery from their satellite constellation. The XCRAFT satellites carry remote sensing instruments including optical, video, and hyperspectral sensors to produce valuable data and insights for our customers. Additionally, its edge computing capability enables the creation of data fusion products and insights to be extracted on-orbit, reducing latency and data transmission costs. Visit: https://www.xplore.com
Xplore is currently recruiting space professionals. Employees at Xplore enjoy competitive benefits and a friendly work environment. Openings at their Redmond headquarters include several engineering roles. Applicants may visit Xplore's career page for details: https://www.xplore.com/careers.html