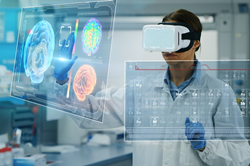 "There are several primary and secondary catalysts driving the US Extended Reality Learning market. Combined, these catalysts have created very favorable global market conditions for suppliers."
MONROE, Wash. (PRWEB) March 08, 2021
The growth rate for Extended Reality Learning in the US is a robust 18.1% and revenues will more than double to $6.7 billion by 2026, according to a new Metaari report called "The 2021-2026 U.S. Extended Reality Learning Market". Essentially, the market for this new type of learning product has entered a boom phase with several convergent catalysts driving adoption.
Metaari defines Extended reality (XR) as an integration of simulation, location-based learning, augmented reality (AR), assisted reality, virtual reality (VR), mixed reality (MR), and the biophysical environment along a sensory immersion spectrum. This immersion spectrum is described in the Extended Reality Experience Immersion Spectrum section of the report.
The US is the top buying country in the world and accounted for 32.1% of all Extended Reality Learning revenues in 2021. The US will still account for 26.7% of global revenues by 2026.
The new report has 235 pages, 21 revenue forecast tables, and 15 charts. The Serious Play Conference (SPC) is the exclusive reseller of the report. It can be purchased here:
https://seriousplayconf.com/xr-report/
"There are several primary and secondary catalysts driving the US Extended Reality Learning market. Combined, these catalysts have created very favorable global market conditions for suppliers. The current US Extended Reality Learning market is being driven by the strong demand in the corporate industrial verticals, military agencies, and healthcare sectors," reports Sam Adkins, Metaari's Chief Researcher. "The use of VR and AR training is now spreading beyond the industrial and healthcare sectors. For example, Walmart, Verizon, BMW, Lowe's, Estée Lauder, McDonald's, and Farmers Insurance are now using VR to train employees and educate customers."
There are three sections in this report: an analysis of the nine major catalysts driving the market, a demand side-analysis, and a supply-side analysis. The major catalysts contributing to the booming demand in the US include: the revenue opportunities in specific sectors, the rollout of 5G, the rapid evolution of XR technologies, the surge in funding flowing to startups, the new FDA approvals for XR products, the XR advances in healthcare, the high demand for augmented field force performance support, the demand for immersive XR-based big data engines, the proliferation of online marketplaces selling premade assets, and the development of industry standards.
The demand-side analysis breaks out five-year revenue forecasts for six buying segments: consumers, PreK-12 schools, tertiary & higher education institutions, local and state government agencies, federal government agencies, and corporations & businesses.
The supply-side analysis provides revenue forecasts for three major product categories: packaged retail content (further broken out by eight types), custom content development services, and authoring tools & platforms.
The supply-side analysis includes a detailed five-year forecast for eight types of packaged retail XR Learning content including cognitive learning, knowledge-based, skill-based, language learning, early childhood learning, performance assessment, role-based behavior modification, and location-based learning.
"In educational psychology, there are two phases of the learning process: knowledge transfer and learning transfer," comments Adkins. "Knowledge transfer is the transmission of information and skills to the learner. Learning transfer is the ability of the learner to demonstrate mastery in a real-world setting. Next-generation XR Learning products (particularly the new augmented field force performance support products) effectively accomplish both phases simultaneously."
The market dynamics will change over the forecast period as AR and VR headset prices continue to fall, intense XR technology innovation accelerates, and more packaged retail content becomes available for the academic and consumer segments.
Over 750 suppliers operating in the US are identified in this report to help suppliers locate domestic distributors, partners, and potential merger and acquisition (M&A) targets.
About Metaari
Metaari (formerly Ambient Insight) is an ethics-based quantitative market research firm that identifies revenue opportunities for advanced learning technology suppliers. We track the learning technology markets in 126 countries. We have the most complete view of the international learning technology market in the industry. Metaari focusses solely on advanced learning technology research on products that utilize psychometrics, neuroscience, location intelligence, game mechanics, robotics, cognitive computing, artificial intelligence, virtual reality, and augmented reality.