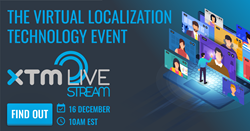 In the current business climate, it's more important than ever to stay on top of the topics around AI and the Intelligence Revolution. XTM LIVEStream will connect the localization community with experts to have meaningful conversations on these topics
GERRARDS CROSS, United Kingdom (PRWEB) December 10, 2020
XTM International, developers of the world-class enterprise cloud-based translation management system XTM Cloud return with the third running of the virtual translation technology event, XTM LIVEStream. After the two previous editions of XTM LIVEStream during 2020, the event on December 16th will be the biggest yet and include in-depth conversations with industry thought leaders on language technology and localization topics.
The theme is "The Intelligence Revolution - AI, Automation, and the Cloud", shining a light on the current developments and trends in translation management, language technology, and AI. There will be discussion, exploration and insights on how companies adopt digital transformation, and how translation management systems and intelligent automation help enterprises achieve significant savings and scale with global content. Representatives of global brands and technology companies from ASICS Digital, Gap Inc., Eventbrite, Ingka Group | IKEA Retail, Crown Equipment Corp., CSA Research, Haims Consulting, SYSTRAN Software, Intento Inc., Lilt and XTM International will share insights from their experience with language technology and AI adoption and related topics. Check out the agenda!
XTM International views XTM LIVEStream as a great opportunity to meet virtually with customers and localization leaders, "In the current business climate, it's more important than ever to stay on top of the topics around AI and the Intelligence Revolution. XTM LIVEStream will connect the localization community with experts to have meaningful conversations on these topics, in a casual and friendly atmosphere. We are hoping attendees will find this platform conducive to learning, and knowledge sharing on language technology topics, and that they get to build valuable contacts during the networking sessions. Grab your favourite coffee mug, turn on the webcam, and make sure that your wi-fi works well for December 16th," said Dave Ruane, Digital Content and Partnership Manager at XTM International.
This year's edition will have a keynote session, various customer viewpoint sessions - TED-style talks (20 minutes each), panel discussions, and networking events. The LIVE Talks portion will enable participants to hear mini presentations given by sponsors including Amplexor, Contentful, Crownpeak, Intento Inc., IXIASOFT, Lilt, SYSTRAN Software, Vistatec, and Women in Localization. Save your virtual seat at XTM LIVEStream.
The event will kick off with a keynote on the democratization of AI given by Dr. Donald A. DePalma (CSA Research). It will continue with sessions and conversations on achieving successful global expansion, strategies and tactics to navigate the Intelligence Revolution and harnessing intelligent automation to drive efficiency in global content delivery.
Registration for XTM LIVEStream is now open.
About XTM International
XTM International develops XTM, the world's leading cloud-based translation management solution (TMS) with an integrated Computer-Aided Translation (CAT) and Computer Aided Review (CAR) tools. XTM's customers include many of the world's largest LSPs and leading enterprises in a variety of industries. More information is available at the XTM website and XTM free trial.