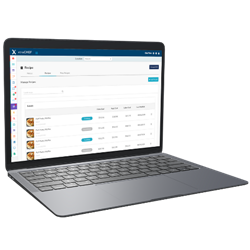 "xtraCHEF's recipe costing tool allows us to look at our true costs in a way we have never been able to before." - Dan Catinella, Director of Business Operations at Crown Shy (NYC)
PHILADELPHIA (PRWEB) January 21, 2020
xtraCHEF, a cloud-based restaurant management platform known for their best-in-class Accounts Payable (AP) automation and cost management tools for restaurants, today announced the release of a recipe management and plate costing feature. This new feature is tightly integrated with xtraCHEF's automated invoice processing technology, allowing chefs and management to factor ingredient price fluctuations into real-time recipe margins.
"Knowing how price fluctuations impact plate costs and profitability is key for today's restaurant operators," said Bhavik Patel, Co-founder and CTO of xtraCHEF. "By leveraging our industry-leading data recognition and extraction technology, our customers will not only be able to track price trends by item and category, but they can now see how those trends affect margins at a recipe level without the manual upkeep and intervention required by most other systems."
By simply uploading or snapping a photo of vendor invoices using xtraCHEF's cloud-based, mobile-friendly invoice processing app, customers build a catalog of products from which they can build prep recipes and recipes. Users can easily drag and drop products into recipes and subsequently publish and share across locations – all in an intuitive, user-friendly interface. xtraCHEF offers flexible configurations to calculate Unit of Measurement (UOM) conversions, yields and densities and also gives users the option to include labor costs in order to get the most accurate reflection of the prime costs related to a dish.
"Controlling food costs is always top of mind, especially in large operations like ours," said Dan Catinella, Director of Business Operations for Crown Shy, a renowned restaurant in Manhattan's Financial District from the team at J2K. "xtraCHEF's recipe costing tool allows us to look at our true costs in a way we have never been able to before. It not only allows us to control costs and waste much more easily and effectively, but it allows us to be proactive with menu engineering and purchasing."
Recipe management and plate costing is the first major feature enhancement of 2020 and complements their existing back of house tools that include Inventory Management, Cost of Goods Sold (COGS) Management, AP Automation and Purchase and Order Management.
"Delivering value is one of our core values at xtraCHEF," said Andy Schwartz, Co-founder and CEO of xtraCHEF. "In our research and conversations with customers and partners, we recognized that restaurants need modern, cost-effective solutions to accurately cost their recipes on a continual and consistent basis. We're excited to bring this value to market."
About xtraCHEF
xtraCHEF is a cloud-based, mobile friendly restaurant management platform that gives finance and operations teams the tools and insights to improve productivity and profits. Leveraging a combination of machine learning, data science, and quality control, xtraCHEF provides the power of data and automation to streamline the supply chain.
By digitizing your invoices with xtraCHEF, your restaurant can unlock data and insights to drive better decision making from recipe and inventory management to more informed purchasing and vendor negotiations. You can even earn cash back in the form of manufacturer rebates.
Learn more at http://www.xtrachef.com