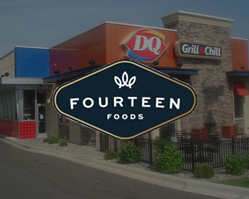 "xtraCHEF will reduce the amount of time and effort our AP team spends on processing invoices," said Chad Underwood, VP of Finance at Fourteen Foods. "In addition to those savings, we are excited about the additional oversight and visibility that their platform will allow."
NEW YORK (PRWEB) February 25, 2019
xtraCHEF, a cloud-based restaurant management platform, today announced an enterprise partnership with Fourteen Foods, one of the largest Dairy Queen (DQ) franchises in the United States. xtraCHEF's automated invoice processing and cost management solution will add operational efficiencies, increased oversight and improved cash management across more than 200 Dairy Queen Grill & Chill® restaurants and Dairy Queen Braziers around the country.
"xtraCHEF will reduce the amount of time and effort our AP team spends on processing invoices," said Chad Underwood, VP of Finance at Fourteen Foods. "In addition to those savings, we are excited about the additional oversight and visibility that their platform will allow."
Fourteen Foods will benefit from xtraCHEF's best-in-class accounts payable management software by automating the time-consuming, manual process of keying invoice information into Microsoft Dynamics, the Enterprise Resource Planning (ERP) software used by Fourteen Foods. xtraCHEF's technology will digitize line-item details from all corporate invoices - such as phone, cable, utility, etc. – and deliver the accurate data to Microsoft Dynamics within 24 hours of capture. xtraCHEF also offers advanced AP features, such as the ability to split invoice amounts across multiple cost centers and automatically reconcile periodic vendor statements against invoices and invoice totals in the system.
Fourteen Foods' management team will be able to configure multi-level, invoice approval workflows to ensure that bills meeting certain criteria are reviewed and approved by appropriate personnel before exporting to Microsoft Dynamics for payment. xtraCHEF enables both their leadership and operations teams the ability to track pricing trends and leverage purchase history data to inform vendor negotiations.
"We are pleased to establish this exciting new enterprise partnership with Fourteen Foods," said Dayna Barringer, Head of Enterprise at xtraCHEF. "We're confident our system will allow them to remain focused on profits and growth."
ABOUT xtraCHEF:
xtraCHEF is a cloud-based restaurant management platform that enables foodservice operators to maximize profits and productivity. Leveraging a combination of machine learning, data science, and quality control, xtraCHEF provides the power of data and automation to streamline the supply chain. By automating time-consuming tasks related to ordering, accounts payable, budgets, and cost management, xtraCHEF helps restaurant groups to build back-of-house operations that can scale.
ABOUT FOURTEEN FOODS
Fourteen Foods is a multi-unit owner and operator of 220 DQ Grill & Chill® restaurants and Dairy Queen Braziers in Alabama, Florida, Indiana, Iowa, Kentucky, Louisiana, Minnesota, Mississippi, Nebraska, South Dakota, Tennessee, North Carolina, and Wisconsin. Since 2002 Fourteen Foods' recipe for success has been simple, a combination of restaurant excellent teams, raving fans, and a commitment to our communities. Fourteen Foods believes deeply in the importance of our mission to "build people and profits, one smile and a story at a time."