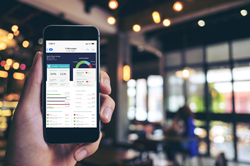 "Our mission and a guiding principle of our product roadmap has always been to provide xtraCHEF customers with data to drive profitability. What excites us about the future is to apply this principle in other areas of their business and to reduce friction throughout the supply chain."
PHILADELPHIA (PRWEB) May 30, 2019
xtraCHEF, a cloud-based restaurant management platform that combines best-in-class AP automation with back-of-house business and operational intelligence, today announced the closing of a $7.5 million Series A funding round to fuel growth, accelerate its product roadmap and recruit new talent. The financing round was led by Radnor, PA-based MVP Capital Partners, with participation from existing investors ValueStream Ventures and Laconia Capital Group.
Leveraging a combination of machine learning, data science and a deep understanding of restaurant finance and operations, xtraCHEF is leading restaurants through a digital transformation of their back-of-house. xtraCHEF's initial product provided restaurants with the ability to digitize invoices and integrate line-item vendor data into restaurant accounting and ERP systems. The Software-as-a-Service (SaaS) company has since expanded its product features to include AP workflows, budgets, food cost analytics, purchasing and order management, and ingredient price monitoring.
"xtraCHEF's rapid growth and broad user adoption has shown how eager the restaurant industry is to streamline back-of-house operations and gain deeper insights into its core business," said Rob Brown, Vice President of MVP Capital Partners. "At MVP, we have a burgeoning hospitality portfolio, and we understand first-hand the problems that xtraCHEF is solving. We are thrilled to partner with Andy, Bhavik and their entire team."
"We're really proud of the value that we deliver to our customers every day," said Andy Schwartz, Co-founder and CEO of xtraCHEF. "This is an important milestone for our team, and we're excited to partner with MVP Capital to take our product and our company to the next level."
In the last nine months, the company has opened new offices in Philadelphia and Chicago and has doubled the size of its team, adding key hires in Sales, Product Development, Engineering, and Finance. The company plans to use the funds to continue to grow the team and propel the product's evolution from a restaurant invoice processing solution to becoming the premiere back-of-house business intelligence and operations platform in the industry.
"Our mission and a guiding principle of our product roadmap has always been to provide xtraCHEF customers with data to drive profitability," said Andy Schwartz, Co-founder and CEO of xtraCHEF. "What excites us about the future is to apply this principle in other areas of their business and to reduce friction throughout the supply chain."
Since processing its first invoices in 2016, the platform has digitized billions of dollars' worth of invoices and amassed a product catalogue consisting of millions of SKUs across thousands of vendors. The founders recognize that, in addition to the efficiencies gained through automation, the most significant value to their customers is in the data.
"Prior to xtraCHEF, most restaurant operators had no viable, cost-effective way of using data to inform purchasing and procurement decisions," said Bhavik Patel, Co-founder and CTO of xtraCHEF. "We've leveled the playing field between suppliers and operators by democratizing previously inaccessible technologies and by adding visibility and transparency to the procurement process."
The rapidly growing platform is used by thousands of restaurants, caterers, foodservice operators, and accounting firms across the United States. Their customers represent the full spectrum of the foodservice industry including Nobel Peace Prize-nominated Chef José Andrés, growing QSR brands like &pizza and Dos Toros, franchise chains such as TGIFridays and Dairy Queen, as well as rising restaurant groups like the recent James Beard-award winning group, CookNSolo, led by Philadelphia-based star chef, Michael Solomonov.
About xtraCHEF
xtraCHEF is a cloud-based restaurant management platform that enables foodservice operators to maximize profits and productivity. Leveraging a combination of machine learning, data science, and quality control, xtraCHEF provides the power of data and automation to streamline the supply chain.
By automating time-consuming tasks related to ordering, accounts payable, budgets, and cost management, xtraCHEF helps restaurant groups to build back-of-house operations that can scale.
About MVP Capital Partners
MVP Capital Partners is a private investment firm based in Radnor, PA that has been making venture, growth equity and buyout investments since 1985.