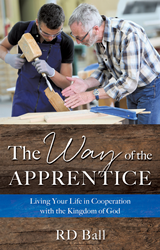 Appeals to the lifelong believer—one who may be discouraged.
WESTMINSTER, Colo (PRWEB) December 21, 2018
Within the pages of RD Ball's new book, The Way of the Apprentice ($14.99, paperback, 9781545607497; $7.99, ebook, 9781545607503), readers will find a book that defines the path of an apprentice to Jesus—that is, one who is cooperating with God's ultimate plan for our lives rather than fighting against it. Becoming an apprentice is not about doing more things; it's about becoming someone.
The Way of the Apprentice appeals to the lifelong believer—one who may be discouraged, battling with sin, or wondering why they don't have the same joy they once had. It's also appeals to the new believer, who may need to learn how to cooperate with God.
Recent surveys show that the longer someone has been a Christian, the more discouraged and disengaged they can become.
"[I believe] a lack of practical learning on what it looks like to be a daily disciple of Jesus is the answer to this dilemma," says Ball.
RD has a varied background. He's a former pastor and a music minister. He attended Bible College at Calvary Chapel Bible College in Denver, Colorado. Married for 27 years, he's a father of six, a grandpa, published musician, an IT guy, and Navy Vet.
Xulon Press, a division of Salem Media Group, is the world's largest Christian self-publisher, with more than 12,000 titles published to date. The Way of the Apprentice is available online through xulonpress.com/bookstore, amazon.com, and barnesandnoble.com.