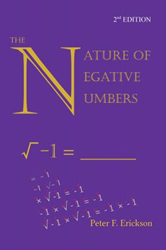 In truth, the square root of negative one, which is unattainable by the reigning real number system, is nonetheless treated by the mathematicians as if it were valid. The was the beginning of the intellectual decline of the West
VANCOUVER, Wash. (PRWEB) July 27, 2018
Within the pages of Peter Erickson's book, The Nature of Negative Numbers ($14.49, paperback, 9781545608876; $6.99, e-book, 9781545608883), readers are shown modern science is sometimes pretentious and even contradictory.
As an example, the author uses the negative branch of the real number system to show it is the intellectual basis for the widespread idea that two wrongs make a right. This negative branch is false because it cannot legitimately produce a square root of negative one. Yet, it uses it anyway. This book corrects this with the veritable number system.
"In truth, the square root of negative one, which is unattainable by the reigning real number system, is nonetheless treated by the mathematicians as if it were valid. The was the beginning of the intellectual decline of the West," said Erickson.
Peter Erickson graduated Phi Beta Kappa from Stanford University in 1961 and also attended The University of Chicago and others. He has previously authored titles such as The Nature of Infinitesimals and The Stance of Atlas: An Examination of the Philosophy of Ayn Rand.
Xulon Press, a division of Salem Media Group, is the world's largest Christian self-publisher, with more than 12,000 titles published to date. The Nature of Negative Numbers is available online through xulonpress.com/bookstore, amazon.com, and barnesandnoble.com.