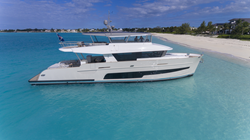 "This partnership with Trinity is exciting on many levels. It sparks new yacht and superyacht construction both in Europe and here in the USA, which has been a long-held dream of YachtCreators," says founder, Barin Cardenas. "Further, it provides much-needed construction financing solutions to meet
FORT LAUDERDALE, Fla. (PRWEB) October 31, 2021
YachtCreators today announces a $100 million joint venture with Trinity Atlantic Capital, Ltd. ("Trinity") to finance the construction of premium yacht builds for retail buyers starting in Q1 2022. YachtCreators is hosting owners and buyers at the Fort Lauderdale International Boat Show October 27 – 31, 2021.
YachtCreators is a full-service professional new build & brokerage firm with sales hubs in Fort Lauderdale, Aventura, and Miami Beach. The LeVen 90, their latest flagship and winner of 2020's Best New Series, drew Trinity's attention with its breathtaking design while moored near Trinity's marina-side offices at Albany in Nassau, Bahamas.
Trinity is an international financial services firm with a long record financing high value luxury goods around the world, including art, fine wine, private aviation and crypto-currencies. This agreement with YachtCreators constitutes their first commitment to the international market for superyachts.
"YachtCreators is a market leader," said Trinity's principal, Jim Allan. "We evaluate opportunities to finance growth around the world every day, and James Wilson and I are looking forward to spending some time at the Fort Lauderdale International Boat Show working with Barin's team. We couldn't wait to be a part of their trajectory."
Mosaic Financial is advising both parties.
About YachtCreators:
YachtCreators, The New Build Experts. With 70+ new builds to date, YachtCreators has garnered critical acclaim & success with award-winning builds such as the 55-meter Laurentia by Heesen, the 38-meter Nono by Admiral, and 2020's Best New Series, the LeVen 90 by Van der Valk Shipyard. In the process, we have forged solid, lasting relationships with elite builders, designers and visionary architects across the globe. Discover what it means to DREAM BUILD PLAY with YachtCreators today.
About Trinity Atlantic Capital, Ltd.:
Trinity Atlantic Capital offers bespoke financial services with a global reach, servicing ultra-high net worth individuals and corporate clients. Trinity's services include innovative investment opportunities, managed portfolios and asset finance advisory services. The partners bring extensive experience in each of the three dedicated business silos. Our expertise is complemented by an international network of best-in-class industry professionals. Trinity Atlantic Capital is headquartered in Nassau, Bahamas at the Albany Financial Center, with offices in Toronto, Canada.