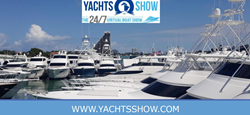 Given the environment we find ourselves in with the Covid-19 pandemic, we are accelerating our efforts to support the yacht industry, and YachtsShow.com is at the forefront of this trend."
BOCA RATON, Fla. (PRWEB) July 15, 2020
Since August 2008, YachtsShow.com has provided 24/7 virtual yacht shows featuring yachts, mega yachts, super yachts, and accessories. Their mission is to bring the yacht shows directly to the consumer, wherever and whenever they want, with no cost for travel or parking, no lines to get aboard, and no ticket needed!
Having grown their audience to over 500,000 visitors annually, YachtsShow.com offers many benefits for both the consumer and the exhibitor including a mobile phone app for visitors with over 5,000 downloaded. They offer multiple ways for the consumer to engage with the exhibitors including phone, text, instant messaging and email options. Yachts Show is available 24/7 365 days a year with the first live streamed show of the season beginning on Friday July 24th and Saturday July 25th. YachtsShow.com was designed by yacht sales professionals who average more than 30+ years of yacht shows, yacht sales, and yacht brokerage experience.
John Kleemann President and founder of YachtsShow.com said: "I have spent twenty years in South Florida in yacht sales, brokerage sales, and management with the world's largest marine retailer. The times we are experiencing are unprecedented and the safety of the customer is the number one concern of buyers and sellers of yachts. In spite of this current pandemic, people are still buying yachts. There have been a few online yacht shows held by companies for their customers, however there are many companies who would like to offer a show to their customers, but they lack the experience to create their own professional show." YachtsShow.com offers professionally produced Virtual Yacht Shows to the yacht sales industry, exhibitors, and consumers worldwide with the expertise and experience gained over many years in the yacht business. Research has found that the consumer wants to buy on their own terms, when they want to buy, and how they want to buy. The yacht industry has been slow to respond to these consumer needs, but YachtsShow.com is accelerating efforts to support the yacht industry as they stay on the leading edge of this trend.
YachtsShow.com is hosting a virtual yacht show on Friday, July 24th and Saturday, July 25th. If you would like to attend the show, go to https://YachtsShow.com and signup. If you would like to exhibit in the show, go to https://exhibitors.yachtsshow.com/advertise and signup.