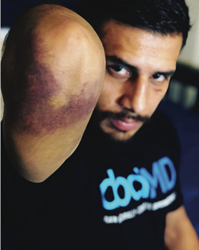 "@cbdmd.usa exceeded my expectations and blew my mind…"
LAS VEGAS (PRWEB) January 15, 2019
Amongst the hundreds of KO's in 2018, Yair Rodriguez, Mexican professional mixed martial artist, took home the No. 1 spot for the UFC's best knockout. cbdMD LLC, a member of the Level Brands, Inc. (NYSE American: LEVB) family of companies, sponsors Rodriguez in the Octagon.
Voted by CBS Sports' panel of experts, Rodriguez's finish against "Korean Zombie" Chan Sung Jung on November 10, 2018 is being described as: "…a knockout so jaw-dropping that it had many calling it quite possibly the best finish in the history of the promotion [UFC]." The featherweight contest was "an absolute war," and ended with Rodriguez's perfect execution of a no-look back elbow as the final buzzer in the fifth round sounded.
Rodriguez took to Instagram and said, "Since my fight I have been sharing some photos of my healing process… After the fight I was pretty sore, my feet, nose and elbow were pretty swollen. This is the best part; I wanted to see how good CBD [cbdMD] was in general cause it was one of the few times I ever used before and after one of my fights. [cbdMD] @cbdmd.usa exceeded my expectations and blew my mind…"
To see the full list of 2018 best KO's, click here; to watch the best KO of the year, click here.
About cbdMD (http://www.cbdMD.com)
cbdMD, a member of the Level Brands' family of companies, offers a comprehensive line of 100% natural, hemp-derived CBD oil products, including tinctures, capsules, gummies, vape oils, bath bombs, topicals, and pet products. As a company committed to the highest standards for CBD sourcing, extraction, and production, cbdMD is for consumers seeking to experience the full benefits of CBD in a safe, convenient, and cost-effective manner. For more information, please visit http://www.cbdMD.com.
About Level Brands (http://www.levelbrands.com)
Level Brands is an innovative brand management and licensing company that provides bold, unconventional, and socially responsible branding for leading businesses. Following its acquisition of Cure Based Development, LLC in December 2018, through its wholly-owned subsidiary cbdMD LLC Level Brands owns and operates the nationally recognized consumer cannabidiol (CBD) brand cbdMD, whose current products include CBD gummies, CBD tinctures, CBD topical, CBD bath bombs, CBD oils, and CBD pet products. Level Brands' primary licensing and corporate brand management businesses target consumer products in the health and wellness space and other high-demand verticals, bringing innovative products to market under the kathy ireland® Health & Wellness; Ireland Men One (I'M1), and Encore Endeavor One (EE1) brands.
Forward-Looking Statements
This press release contains certain forward-looking statements that are based upon current expectations and involve certain risks and uncertainties within the meaning of the U.S. Private Securities Litigation Reform Act of 1995. Such forward-looking statements can be identified by the use of words such as ''should,'' ''may,'' ''intends,'' ''anticipates,'' ''believes,'' ''estimates,'' ''projects,'' ''forecasts,'' ''expects,'' ''plans,'' and ''proposes.'' These forward-looking statements are not guarantees of future performance and are subject to risks, uncertainties, and other factors, some of which are beyond our control and difficult to predict and could cause actual results to differ materially from those expressed or forecasted in the forward-looking statements. You are urged to carefully review and consider any cautionary statements and other disclosures, including the statements made under the heading "Risk Factors" in Level Brands, Inc.'s Annual Report on Form 10-K for the fiscal year ended September 30, 2018 as filed with the Securities and Exchange Commission (the "SEC") on December 12, 2018 and our other filings with the SEC. All forward-looking statements involve significant risks and uncertainties that could cause actual results to differ materially from those in the forward-looking statements, many of which are generally outside the control of Level Brands, Inc. and are difficult to predict. Level Brands, Inc. does not undertake any duty to update any forward-looking statements except as may be required by law.
###