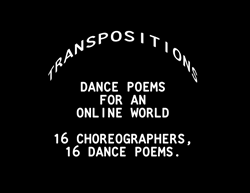 You can think of these poems as love letters to humanity and to human connection. We are stronger when we move together.
NEW HAVEN, Conn. (PRWEB) February 22, 2021
Bridging a performing arts gap created by the pandemic, Yale Schwarzman Center (YSC) has partnered with the Yale Dance Lab and 16 renowned dance artists to launch a 16-episode series, dubbed Transpositions: Dance Poems for an Online World, which features digital dance poems, performed by 66 dancers from 12 dance groups and a variety of genres. The weekly series premiered February 15 on Yale Dance Lab and Yale Schwarzman Center websites, and each weekly episode knits together local, national, and international communities of dance and explores the continuous and interrupted dance practices in digital life. New episodes, along with behind-the-scenes interviews, are scheduled to air from February 15 through May 10.
Created by Emily Coates, associate professor and director of dance in the Theater and Performance Studies Program, Transpositions connects emerging artists, sound designer, and arts producers with internationally acclaimed dance artists including: Aimee Meredith Cox, Aki Sasamoto, Brian Seibert, Bronwen MacArthur, Cécile Feza Bushidi, Christopher Rasheem-McMillan, Emily Coates, Gregory Maqoma, Ms. Hanan Hameen, Iréne Hultman, Jenna Riegel, Shayla-Vie Jenkins, Jennifer Harrison Newman, Kellie Ann Lynch, Lindsey Bauer, Lacina Coulibaly, and Renee Robinson.
The final visual and aesthetic direction for the series is composed by video artist Kyla Arsadjaja, MFA '20 in collaboration with a team of nine sound designers from the Yale School of Drama who created original accompaniment for the visuals. In addition, Natalie King and Jacob Santos, theater management MFA candidates from the School of Drama, supported the development process as associate producers.
"This series creates a billowing collaborative network of dancers and artists from around the globe who are charting new forms of collective authorship. Through dance we are using our artistry and talents to address the myriad of crises our world currently faces," said Coates. "You can think of these poems as love letters to humanity and to human connection. We are stronger when we move together."
Transpositions began during the fall semester when Coates matched dance artists from New Haven, Philadelphia, New York, Burkina Faso, and South Africa with dancers based on mutual interests in dance styles, or, conversely, because "the match may pose a direct collision of different backgrounds and styles that might broaden the dancers' knowledge of choreographic processes." Each choreographer worked with a group of dancers for two 2-hour sessions to experiment and explore ideas to create a digital dance poem.
The project involved more than 66 dancers from a dozen dance groups including, A Different Drum, Danceworks, Dzana, Groove, MonstRAASity, Neighborhood Music School's Premier Dance Company, Taps, Yale Ballroom Dance Team, Yale Dance Lab, Yaledancers, Yale Undergraduate Ballet Company, Yale Movement. For more information, visit https://schwarzman.yale.edu/series/transpositions-dance-poems-online-world.
To sign up for Transpositions notifications, click here.
About YSC: Yale Schwarzman Center is transformational for Yale in providing, for the first time, a center for student life and the arts at the historic heart of the Yale University campus. YSC produces digital programs and collaborative arts experiences geared toward audiences within and beyond the Yale campus. Learn more at https://schwarzman.yale.edu.
About the Yale Dance Lab: The Yale Dance Lab promotes cross-disciplinary research in dance through partnerships with schools and departments across Yale's campus. The Dance Lab emphasizes studio practice, whether reconstructing older works or experimenting with new ideas, as a unique form of research, revealing an artist's choreographic vision and historical milieu. The discipline, ritual, and repetition inherent in creative practice forms the Lab's core knowledge—Dance Lab members deepen their technical strength and artistry, even as they gain insight into some of the most powerful sociopolitical ideas of our time. Learn more at https://yaledancelab.yale.edu/