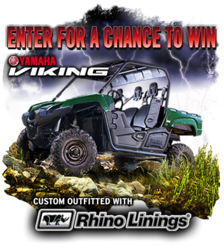 SAN DIEGO, Calif. (PRWEB) July 10, 2013
Rhino Linings Corporation, a leading manufacturer and distributor of spray-on protective linings and coatings, has teamed up with Yamaha Motor Corporation USA to give away the all-new Yamaha Viking custom outfitted with Rhino Linings sprayed-on protection and LED light kit from Baja Designs.
Now through Oct 15, 2013, fans may visit http://rhinolinings/tough, for a chance to win the Viking grand prize. In addition, each eligible entry will receive a $25 coupon to use toward the purchase of a Rhino Linings truck bed liner.
The Viking is Yamaha's largest and most powerful off-road vehicle to date. With the addition of Rhino Linings rust, corrosion and abrasion preventing sprayed-on protection, the custom outfitted Viking is equipped to endure some of the most rugged off-road conditions.
"Rhino Linings is excited to be working with Yamaha and have the opportunity to highlight our product on the new Viking," comments Pierre Gagnon, president and CEO of Rhino Linings Corporation. "With both companies recognized as having a tough edge, this partnership is a perfect fit."
The "Yamaha Giveaway" sweepstakes grand prize winner will be announced on November 6th at the 2013 Specialty Equipment Market Association (SEMA) Show in Las Vegas, Nevada.
No purchase is required to enter the sweepstakes. The Rhino Linings Yamaha Sweepstakes is open to legal residents of the continental U.S. and the Canadian Provinces of Alberta, British Columbia, Manitoba, New Brunswick, Nova Scotia, Ontario, Prince Edward Island and Saskatchewan who are at least 18 years of age or older on the day of registration. For Official Rules and full details, visit http://rhinolinings.com/tough.
Visit http://liners.rhinolinings.com for more information, or to find a Rhino Linings location near you.
About Rhino Linings Corporation
Rhino Linings Corporation, established in 1988 and headquartered in San Diego, California, is a privately-held corporation and world leader in protective sprayed and/or rolled polyurethane, polyaspartic, epoxy coatings and linings and polyurethane foam systems for vehicle, industrial, municipal, commercial and residential applications. Rhino Linings Corporation has a global retail and industrial applicator network consisting of more than 2000 independently owned and operated businesses in almost 80 countries. For more information about Rhino Linings Corporation, visit http://rhinolinings.com.
Yamaha is a registered trademark of Yamaha Motor Corporation, Ltd. Rhino Linings is a registered trademark of Rhino Linings Corporation.