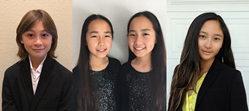 The Highlight Concert features original compositions of Yamaha Music Students from across the country and will take place at the 2020 NAMM show, the largest musical instrument convention in North America.
ANAHEIM, Calif. (PRWEB) December 02, 2019
The Yamaha Music Education System will showcase the compositions of three impressive pianists at this year's Yamaha 2020 Highlight Concert. The Highlight Concert features original compositions of Yamaha Music Students from across the country and will take place at the 2020 NAMM show, the largest musical instrument convention in North America.
The concert will be held at 1 p.m. on Friday, January 17, 2020 on the Main Demo Stage in the Keyboard area of the Yamaha booth, located in the Anaheim Marriott Hotel Marquis Ballroom. All NAMM badge holders are invited to attend the concert, free of charge.
Landon Kroon, age 8, will perform an original piano solo, "My Encounter with Hungry Alligators," a composition inspired by strange orange alligators spotted in South Carolina. Kroon studies at the Torrance Yamaha Music Center in Torrance, California under the private instruction of Laurie Merchant; this will be his first time playing at NAMM. An amateur fencer, Kroon enjoys hanging out with his friends and playing video games with his brother Lucas at their home in Torrance.
Identical twin sisters Sofia and Fiona Kouwabunpat, both age 13, will perform their original composition for piano, 4 hands, entitled "It's Me, Maro." Sofia and Fiona decided to write a piece that evokes the personality of Maro, their vigorously energetic Jack Russell terrier mix with "amazing jumping skills." The sisters are students at Irvine Yamaha Music Center in Irvine, CA under the instruction of Ana Contreras. They have previously performed this piece in Winnipeg, Canada as special guests in May 2019 at the 2019 Yamaha Canada Junior Original Concert (JOC). Outside of their musical work, Sofia and Fiona spend their spare time playing golf and skiing.
Amelia Lu, 14, will perform an original piece entitled "My Time is Today" on piano, accompanied by Cerritos Yamaha Music School graduate Brennan Murray on percussion and three Yamaha Genos workstation keyboards played by her brother Tristan Lu, 12, fellow Highlight Concert performer Landon Kroon and his older brother Lucas Kroon, 12. Lu was inspired to compose "My Time is Today" after playing in the Gershwin musical Crazy for You; for her, the piece is imbued with the message, "Seize your opportunities, and always make the most of the present." Like the younger Kroon, Lu also studies under Laurie Merchant at Torrance Yamaha Music Center. She is appearing on stage at NAMM this year for the first time, having performed previously at the 2019 U.S. National Highlight Concert in Buena Park, California and the 2019 Yamaha International Highlight Concert in Singapore. When she is not making music, Amelia enjoys playing tennis and engaging in community service where she lives in Redondo Beach, California.
Established in 1954, the proven Yamaha Music Education System helps enhance the offerings of music schools and music instrument dealers in 40 countries worldwide. In the United States, more than 60 locations are authorized to teach the Yamaha method. To date, over six million students from around the world have graduated from the program, and many of them have become professional musicians. The goal of the Yamaha Music Education System is to nurture an overall sense, appreciation and love for making and sharing music.
The Highlight Concert was introduced in 2019 to incorporate repertoire performance students into the Yamaha JOC program, expanding and deepening its representation of the potential of Yamaha Music School students. Yamaha Junior Original Concerts around the world have showcased the talents of top-achieving students at these schools; they have been held at such prestigious venues as The Kennedy Center, Wiener Konzerthaus, Salle Gaveau and Carnegie Hall.
For more information, please visit the Yamaha Booth at the 2020 NAMM Show in the Anaheim Marriott Hotel, Marquis Ballroom, January 16-19, 2020, or https://yamaha.io/2zmKCX4
About Yamaha
Yamaha Corporation of America (YCA) is one of the largest subsidiaries of Yamaha Corporation, Japan and offers a full line of award-winning musical instruments, sound reinforcement, commercial installation and home entertainment products to the U.S. market. Products include: Yamaha acoustic, digital and hybrid pianos, portable keyboards, guitars, acoustic and electronic drums, band and orchestral instruments, marching percussion products, synthesizers, professional digital and analog audio equipment, Steinberg recording products and NEXO commercial audio products, as well as AV receivers, amplifiers, MusicCast wireless multi-room audio systems, Blu-ray/CD players, earphones, headphones, home-theater-in-a-box systems, sound bars and its exclusive line of Digital Sound Projectors. YCA markets innovative, finely crafted technology and entertainment products and musical instruments targeted to the hobbyist, education, worship, music, professional audio installation and consumer markets.