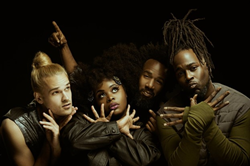 BUENA PARK, Calif. (PRWEB) May 19, 2022
Today, Yamaha announced the 2022 performance lineup to light up the Yamaha Grand Plaza Stage at NAMM. This two-night concert series for all attendees will be the first NAMM concert in person since January 2020, emphasizing the power and importance that in-person music connection offers. Performances kick off on Friday, June 3, at 6 p.m. with a Night of Worship for all to experience live worship music at its finest. On Saturday, June 4, at 6 p.m., Yamaha reprises its All-Star Concert on the Grand that has thrilled and surprised The NAMM Show crowd for years.
"Yamaha and Yamaha artists have delivered great musical events with magical 'only at the NAMM Show' moments to NAMM Show audiences year after year," said Tom Sumner, president, Yamaha Corporation of America. "After two years of silence, we are excited to bring back Yamaha Night of Worship and the Yamaha All-Star Concert on the Grand for NAMM 2022. Both can't miss events feature amazing artists and legendary Yamaha instruments and sound."
Attendees can stop by the Yamaha Grand Plaza Stage to experience awe-inspiring performances from artists such as Tank and the Bangas, Preservation Hall Jazz Band, and Kandace Springs on June 4 and Fred Hammond and Saddleback Worship on June 3. The series of concerts is produced by award winning producer and director Chris Gero and the team at Yamaha Entertainment Group.
"We are excited to be back, celebrating live music again at the world's largest trade-only event for the music industry!" said Chris Gero, chief artist relations executive, Yamaha Artist Relations Group. "This year's concert events are sure to showcase and truly celebrate the way music connects us all; something we have missed so much the last two and a half years. We're back!"
The performance lineup for Friday, June 3, includes the following:

Saddleback Worship: Saddleback Worship is a community of worshipers serving Saddleback Church, with locations spread across four continents. Recording their music in Southern California, the team is prayerful in their efforts to put pen to paper to share with their community.
Fred Hammond: Fred Hammond is a gifted vocalist, songwriter, musician, producer and arranger. He is dubbed the architect behind the creation of a phenomenon in Gospel music, Urban Praise & Worship.
The performance lineup for Saturday, June 4, includes the following:

Kandace Springs: Kandace Springs is a pianist and vocalist from Nashville, Tennessee. Springs covers the women who inspired her while she was growing up on her latest record The Women Who Raised Me, putting her own spin on songs associated with a dozen of the greatest female vocalists of all-time: Ella Fitzgerald, Roberta Flack, Astrud Gilberto, Lauryn Hill, Billie Holiday and Norah Jones.
Preservation Hall Jazz Band: New Orleans has been the point at which sounds and cultures from around the world converge, mingle, and resurface, transformed by the Crescent City's inimitable spirit and joie de vivre. Nowhere is that idea more vividly embodied than in the Preservation Hall Jazz Band, which has held the torch of New Orleans music aloft for more than 50 years, all the while carrying it enthusiastically forward as a reminder that the history they were founded to preserve is a vibrantly living history.
Tank and the Bangas: Coming from New Orleans, Tank and the Bangas are surrounded by plenty of grand musical traditions. And the five-piece group has a rare knack for combining various musical styles—fiery soul, deft hip-hop, deep-groove R&B and subtle jazz—into one dazzling, cohesive whole that evokes the scope of New Orleans music while retaining a distinctive feel all its own.
"I am AMPED for us to be partnering with Yamaha this year at the 2022 NAMM Show, live and in person," said Joshua Johnson, Drummer, Producer and Musical Director of Tank and the Bangas. "It's going to be really exciting for us to see all of the latest gear, catch up with old friends and make new ones at our first NAMM performance."
Yamaha uniquely offers musicians instruments to create music and professional audio and recording solutions to ensure every note is heard in its truest form. The music on the Yamaha Grand Plaza Stage will be creatively mixed and curated by the company's award-winning commercial audio gear, including the Rivage digital console line. Every note will be articulately amplified through NEXO speaker systems. NEXO is a Yamaha company.
To see Yamaha at NAMM, please visit the Yamaha booth in the Anaheim Convention Center #300DE June 3-5, 2022. For more information visit usa.yamaha.com/namm.
About Yamaha
Yamaha Corporation of America is the largest subsidiary of Yamaha Corporation, the world-leading music and sound company, based in Hamamatsu, Japan. The Yamaha team is committed to helping everyone progress, express and connect through music and sound. We offer innovative, finely crafted, award-winning products for your entire musical journey including pianos, brass instruments, woodwinds, strings, electronic keyboards, guitars, drums, professional and home audio equipment.