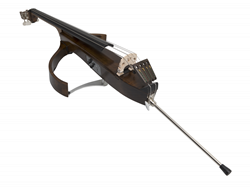 "At Yamaha, we are always working to improve our instruments and provide performers with the best tools to perfect their sound and grow as musicians, and the SLB300SK helps them achieve this," said Ken Dattmore, strings marketing manager, Winds & Strings, Yamaha
ANAHEIM, Calif. (PRWEB) January 16, 2020
Yamaha today introduced the SLB300SK Silent Bass, the next generation of electric upright basses that allow the performer to control their sound from the instrument itself with the press of a button.
Silent Bass has been used on stage by notable performers who note its comfort and clear, rich and full "Upright" sound. The original design of the Silent Bass gave musicians a "true" ergonomic feel by including all the touch points of an acoustic upright bass.
Studio Response Technology (SRT) now allows the new SLB300SK to model an acoustic bass played through different high-end acoustic microphones, ranging from the clear, crisp sound of a dynamic microphone, to the well-balanced rich timbre and warm low-frequency emphasis of classic and vintage vacuum-tube microphones. SRT provides performers with complete control of their sound directly from the instrument.
The SLB300SK can be broken down into an easily transportable "subway friendly" instrument that can be packed into a TSA case without fear of being damaged en route. It also allows the player to take their acoustic sound to places where they may have feared to bring an expensive, classic acoustic instrument, such as an outdoor gig on a hot humid day.
"More and more professional and semi-professional players are becoming interested in an electric upright because it offers better portability and high-quality sound amplification. The SLB300SK is extremely portable and offers the best in microphone options that make it possible for players to use it every day and in any place," says Ken Dattmore, strings marketing manager, Winds & Strings, Yamaha. "At Yamaha, we are always working to improve our instruments and provide performers with the best tools to perfect their sound and grow as musicians, and the SLB300SK helps them achieve this."
Pricing and Availability
The Yamaha SLB300SK Silent Bass (MSRP: $4,495.00) is expected to ship in February 2020.
For more information, please visit the Yamaha Booth at the 2020 NAMM Show in the Anaheim Marriott Hotel, Marquis Ballroom, January 16-19, 2020, or https://yamaha.io/SLB300SKSILENTBASS.
About Yamaha
Yamaha Corporation of America (YCA) is the largest subsidiary of Yamaha Corporation, Japan and offers a full line of award-winning musical instruments, sound reinforcement, commercial installation and home entertainment products to the U.S. market. Products include: Yamaha acoustic, digital and hybrid pianos, portable keyboards, guitars, acoustic and electronic drums, band and orchestral instruments, marching percussion products, synthesizers, professional digital and analog audio equipment, Steinberg recording products and NEXO commercial audio products, as well as AV receivers, amplifiers, MusicCast wireless multiroom audio systems, Blu-ray/CD players, earphones, headphones, home-theater-in-a-box systems, sound bars and its exclusive line of Digital Sound Projectors. YCA markets innovative, finely crafted technology and entertainment products and musical instruments targeted to the hobbyist, education, worship, music, professional audio installation and consumer markets.