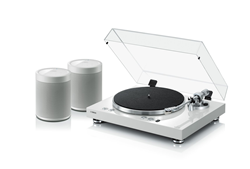 BUENA PARK, Calif. (PRWEB) November 05, 2019
Vinyl enthusiasts both new and old now have even more options for making a turntable the centerpiece of the listening experience in their smart homes thanks to the introduction of the new white version of the Yamaha MusicCast VINYL 500 turntable.
With vinyl sales poised to outsell CDs for the first time in three decades, the MusicCast Vinyl 500 not only satisfies the growing and resurgent interest in vinyl, it also brings the turntable into the modern era, combining classic Hi-Fi playback with Wi-Fi streaming capabilities.
The white version of the MusicCast VINYL 500 is arriving just in time for the holidays this year. The piano black version launched in 2018.
In addition to classic turntable playback, the MusicCast VINYL 500 is fully packed with wireless technologies to support wireless playback to other rooms with MusicCast-enabled speakers. In addition, it offers built-in streaming services, including Apple AirPlay 2®, Spotify Connect, Pandora®, SiriusXM, TIDAL, Deezer, Napster, Qobuz, Amazon Music and thousands of free internet radio stations, all accessible through the MusicCast app. Additionally, the MusicCast VINYL 500 works with the most popular voice control assistants, allowing fans to control streaming music, volume levels and multi-room and stereo setups using spoken commands.
Now with a white version, it's never been easier for enthusiasts to integrate their love of vinyl with their home decor and entertainment setup.
Turntable Features
The MusicCast VINYL 500 is stocked with the following capabilities:

Cartridge – Moving Magnet cartridge for durability and high-output delivery.
Built-in Phono Preamp for line-level or Phono audio outputs.
Tone Arm – Static balanced straight tone arm for lightweight effective mass and lateral balance. Anti-skate and adjustable counterweight maintain stable tracking.
Platter – An aluminum platter with a high moment of inertia and felt anti-static mat reduces reverberation.
Drive – A belt drive which reduces distortion. The high inertia platter is driven by a DC motor with a durable rubber belt to achieve stable rotation.
Cabinet – Built of material with high internal loss and sound isolation feet to prevent vibration.
External DC Power Supply – Cuts AC electronic interference.
Smart home capabilities include:

Multi-room audio playback with MusicCast-enabled devices and speakers
Voice control via Alexa and Google devices, and Siri, via AirPlay 2
Built-in streaming services
Pricing and Availability
The MusicCast VINYL 500 turntable (MSRP: $699.95) in white will be available in early December 2019. The black version is available now in a Yamaha piano black gloss finish. Learn more here: https://usa.yamaha.com/products/audio_visual/hifi_components/musiccast_vinyl_500/index.html.
About Yamaha
Yamaha Corporation of America (YCA) is one of the largest subsidiaries of Yamaha Corporation, Japan and offers a full line of award-winning musical instruments, sound reinforcement, commercial installation and home entertainment products to the U.S. market. Products include: Yamaha acoustic, digital and hybrid pianos, portable keyboards, guitars, acoustic and electronic drums, band and orchestral instruments, marching percussion products, synthesizers, professional digital and analog audio equipment, Steinberg recording products and NEXO commercial audio products, as well as AV receivers, amplifiers, MusicCast wireless multi-room audio systems, Blu-ray/CD players, earphones, headphones, home-theater-in-a-box systems, sound bars and its exclusive line of Digital Sound Projectors. YCA markets innovative, finely crafted technology and entertainment products and musical instruments targeted to the hobbyist, education, worship, music, professional audio installation and consumer markets.