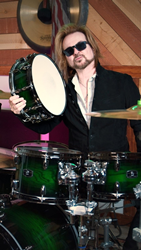 This, drumming, is what I do for a living. I have to have a group of people I trust and gear that is reliable and consistent, and Yamaha is both of these things.
BUENA PARK, Calif. (PRWEB) April 10, 2023
Yamaha Artist Relations Group (YARG) is thrilled to welcome Rikki Rockett, the co-founder and drummer for the band Poison to their ever-growing roster of artists. Yamaha is committed to making a lifetime relationship with musicians, and Rockett's expertise in drums and trust in our high-quality craftsmanship creates the perfect synergy.
Poison exploded into the highly competitive Los Angeles music scene in the 80s, making a name for themselves in the clubs on the Sunset Strip. Poison has sold over 50 million records worldwide, releasing eight studio albums, four live albums, and four compilations. The band has charted 10 singles on the Top 40 of the Billboard Hot 100, including six Top 10 singles and one Hot 100 number-one smash hit, "Every Rose Has Its Thorn."
When asked why Yamaha, Rockett responded, "This, drumming, is what I do for a living. I have to have a group of people I trust and gear that is reliable and consistent, and Yamaha is both of these things. In a touring situation, there are instances where you do not have a lot of time for a sound check. Even in the best scenario, you can't take all day making your stuff work. It would help if you had something that tunes up and works well. In the case of Yamaha with their Live Custom Hybrid Oak, they are the perfect live drums."
Rockett is playing a Yamaha Live Custom Hybrid Oak, finished in UZU Charcoal Sunburst and featuring a 7-Ply hybrid oak shell with the center shell a phenolic. This kit incorporates traditional Japanese Uzukuri–handcrafted shell finishing, creating a unique look that defines the dynamic expression of oak.

Bass Drum: 22"x18"
Snare: 14"x5.5"
Rack Toms: 7"x10" and 8"x12"
Floor Toms: 14"x13" and 16"x15"
Yamaha FP9 Chain Drive double foot pedal
Yamaha HW 680W double-braced hardware
To catch Rockett perform live before Poison sets their next tour dates, you can see him with his other band, "Rockett," throughout the summer of 2023. For more information about Rikki Rockett, visit: https://www.rikkirockett.com/
Contact:
Diana Moeck
Yamaha Corporation of America
Manager, Public Relations
dmoeck@yamaha.com
ABOUT YAMAHA ARTIST RELATIONS GROUP
Yamaha Artist Relations Group oversees the management and branding of Yamaha's global artist roster. With more than 5,000 artists signed to date, YARG has cultivated the largest artist roster in the world. These relationships enable and enhance brand exposure through various functions, including partnerships, placements, and the production of industry-leading content, world-class concerts and films. No artist is ever paid to play Yamaha instruments, a testament to the mutual commitment of our relationships, resulting in unparalleled brand exposure to hundreds of millions of viewers worldwide annually. Additionally, YARG supports Yamaha's music education initiatives through a robust, multi-faceted educational support program.
ABOUT YAMAHA
Yamaha Corporation of America is the largest subsidiary of Yamaha Corporation, the world-leading music and sound company based in Hamamatsu, Japan. The Yamaha team is committed to helping everyone progress, express and connect through music and sound. We offer innovative, finely crafted, award-winning products for your entire musical journey, including pianos, brass instruments, woodwinds, strings, electronic keyboards, guitars, drums, and professional and home audio equipment.