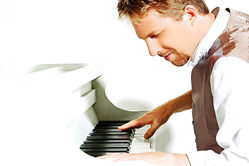 "Our goal with expanding the Master Educator Collective is to be more inclusive in our support of these rapidly growing segments," says John Wittmann, senior director, Artist Relations and Education, Yamaha.
BUENA PARK, Calif. (PRWEB) March 10, 2021
Yamaha today announced the launch of the Music Business & Entrepreneurship group, an education initiative designed to support music educators who are preparing students for the modern music industry, as part of the company's Master Educator Collective. The unique program offers educators and music-loving students the opportunity to learn from a range of highly-regarded experts specialized in the many areas of the music business, including the rapidly growing arts entrepreneurship segment.
"Within the digital music industry, there are countless opportunities for both educators and students to explore new paths forward and build successful and sustainable careers. For those aspiring to pursue a career as a musician, it's more important than ever for them to understand their rights and protect their brand," says John Wittmann, senior director, Artist Relations and Education, Yamaha.
"This demand has led to a rising number of educational programs, workshops, start-up incubators, and other programs focused on preparing students to enter a modern and dynamic field. Our goal with expanding the Master Educator Collective is to be more inclusive in our support of these rapidly growing segments," Wittmann added.
Yamaha Music Business Master Educators, who have successfully navigated the music business and arts entrepreneurial world, will empower current and future music educators and students by providing inspirational support, thought leadership and transformative professional development sessions.
The premiere roster of Yamaha Music Business & Entrepreneurship Master Educators include:
Dr. David Cutler – Distinguished Professor of Music and Director of Music Entrepreneurship at the University of South Carolina (Columbia, South Carolina); Author of The Savvy Musician and The Savvy Music Teacher
Ms. Serona Elton – Professor of Music Industry and Associate Dean of Administration at the University of Miami Frost School of Music (Coral Gables, Florida); Head of Educational Partnerships at The Mechanical Licensing Collective
Dr. Donny Gruendler – Vice President of Music Education for Guitar Center (Los Angeles, California)
Dr. Jeffrey Nytch – Associate Professor and Director of the Entrepreneurship Center for Music at the University of Colorado-Boulder (Boulder, Colorado)
Dr. Stan Renard – Assistant Professor of Music Marketing, Director of the Arts Incubation Research Lab and Assistant Director of the Center for Innovation, Technology and Entrepreneurship at the University of Texas at San Antonio (San Antonio, Texas)
"Yamaha envisions a world where the passion for music-making is cultivated within learners of all ages and ignited by inspired educators," said Wittmann. "These distinguished educators give great meaning to the expansion of the program, and they will not only help us reach even more educators but also improve our educational offerings and further our understanding and fulfillment of music educators' needs."
Since 2016, the Yamaha Master Educator Collective – made up of distinguished academics, clinicians, consultants and authors from across North America – has sought to connect educators with the nation's top thought leaders in music education. These Master Educators serve as a resource for both educators and students, offering professional development opportunities across a range of music and education topics and fields.
For more information about the Yamaha Master Educator Collective or bringing a Yamaha Master Educator to your program, please visit https://Yamaha.io/mastereducatorcollective
About Yamaha
Yamaha Corporation of America (YCA) is the largest subsidiary of Yamaha Corporation, Japan and offers a full line of award-winning musical instruments, sound reinforcement, commercial installation and home entertainment products to the U.S. market. Products include: Yamaha acoustic, digital and hybrid pianos, portable keyboards, guitars, acoustic and electronic drums, band and orchestral instruments, marching percussion products, synthesizers, professional digital and analog audio equipment, Steinberg recording products and NEXO commercial audio products, as well as AV receivers, amplifiers, MusicCast wireless multiroom audio systems, Blu-ray/CD players, earphones, headphones, home-theater-in-a-box systems, sound bars and its exclusive line of Digital Sound Projectors. YCA markets innovative, finely crafted technology and entertainment products and musical instruments targeted to the hobbyist, education, worship, music, professional audio installation and consumer markets.