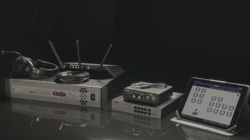 "The MLC-200 Music Lab is a state-of-the-art system comprised of top-quality, trusted Yamaha components. It has been designed to meet the needs of today's classroom teaching environments...," says Ben Harrison, marketing manager, Digital Piano and Portable Keyboard, Yamaha.
ANAHEIM, Calif. (PRWEB) January 16, 2020
Yamaha today showcased the MLC-200 Music Lab, the most sophisticated and intuitive audio system ever created for real-time group keyboard instruction.
The MLC-200 combines the iPad® app, ML Touch, with audio hardware utilizing Dante technology, the most popular standard for transmitting audio over common Ethernet cables, to create a unique and flexible system for music educators to interact with their students. The MLC-200 is the first Dante-based music instruction system of its kind, and due to rugged Yamaha components, the best-sounding and most reliable.
The MLC-200 system enables instructors to speak or play to the entire class through their headphones, monitor what students are playing on their instrument or saying into their headset, communicate one-on-one with classmates who may be seated towards the rear of the room, mute all instruments with the touch of an icon and even take class attendance. With a tap of the app, instructors can also create subgroups for students with different levels of ability or those working on different pieces.
The MLC-200 system provides control of select Yamaha keyboards and Clavinova digital pianos, including highlighting notes on students' instruments simply by playing them at the teacher's station or resetting all student pianos to the main grand piano Voice. By using wireless headphones, instructors can roam about the classroom to help their students individually, while hearing and controlling the entire blend of the class's instruments.
The MLC-200 BASE system includes all of the components needed for a teacher and eight students. This comprises an advanced Yamaha MRX7-D Dante signal processor to handle all audio routing and mixing duties; an SW2100P-10G Ethernet switch to network the MRX7-D with up to eight instrument stations, plus the teacher's station, headphones, cables and nine MLA-200 interface boxes. The MLA-200 sits atop each digital piano and serves as the bridge between the Dante network and all the signals from each station, such as the headphone mix and headset mic, instrument audio and instrument USB-MIDI connection.
Each MLA-200 also provides a volume knob as well as convenient mic mute and instructor call buttons. In Duo mode, the MLA-200 allows two students to plug in separate headsets while sharing a single digital piano. Since each MLA-200 receives power-over-Ethernet (PoE) from the SW2100P-10G switch, no loss-prone AC adaptors are required at the students' or teacher's stations.
In addition, the MLC-200 BASE system provides nine pairs of headphones with headset mics (eight for the students and one for the teacher), a single pair of wireless headphones for the teacher and a Wi-Fi router that has been pre-configured as a private network. This lets the teacher control the system from an iPad without losing bandwidth to other nearby devices, ensuring rock-solid control.
Larger learning groups are easily accommodated by simply adding additional SW2100P-10G Ethernet switches, MLA-200 interface boxes, headphones and cables. The MLC-200 system delivers high-resolution audio quality with no latency, regardless of the number of students who are connected. Far from being restricted to use with digital pianos and keyboards, the MLC-200 system is also ideal for an electronic drum lab or for use without instruments altogether for language learning.
"The MLC-200 Music Lab is a state-of-the-art system comprised of top-quality, trusted Yamaha components," says Ben Harrison, marketing manager, Digital Piano and Portable Keyboard, Yamaha Corporation of America. "It has been designed to meet the needs of today's classroom teaching environments, with sturdy construction, wireless control, high-resolution audio, and virtually unlimited expandability. This is the lab system of the future, here today."
Pricing and Availability
The Yamaha MLC-200 Music Lab system ($9,999.99 MSRP) is now shipping. For more information, please visit the Yamaha Booth at the 2020 NAMM Show in the Anaheim Marriott Hotel, Marquis Ballroom, January 16-19, 2020, or https://yamaha.io/2KjSIVc.
About Yamaha
Yamaha Corporation of America (YCA) is the largest subsidiary of Yamaha Corporation, Japan and offers a full line of award-winning musical instruments, sound reinforcement, commercial installation and home entertainment products to the U.S. market. Products include: Yamaha acoustic, digital and hybrid pianos, portable keyboards, guitars, acoustic and electronic drums, band and orchestral instruments, marching percussion products, synthesizers, professional digital and analog audio equipment, Steinberg recording products and NEXO commercial audio products, as well as AV receivers, amplifiers, MusicCast wireless multiroom audio systems, Blu-ray/CD players, earphones, headphones, home-theater-in-a-box systems, sound bars and its exclusive line of Digital Sound Projectors. YCA markets innovative, finely crafted technology and entertainment products and musical instruments targeted to the hobbyist, education, worship, music, professional audio installation and consumer markets.