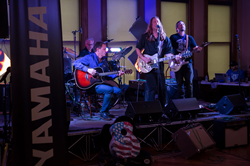 "We are happy to put our efforts toward some measure of appreciation for our veterans when they need us," said Tom Sumner, president, Yamaha Corporation of America.
MILWAUKEE (PRWEB) June 28, 2019
Yamaha joined veteran's group Guitars for Vets (G4V) Thursday afternoon and evening to hold a live music performance in observance of National PTSD Awareness Day, as well as to celebrate the recent milestone opening of G4V's 100th chapter nationwide, the latest major step forward for its program of rehabilitation from post-traumatic stress disorder through music.
Students and graduates of the G4V program made up a significant portion of the performing musicians at the 21 Guitar Salute, a free event in the Grand Hall of Best Place at the city's historic Pabst Brewery. The show brought together 21 local bands from the Milwaukee-Madison-Green Bay area, ranging in genre from rock to jazz to reggae. G4V co-founder Patrick Nettesheim and Yamaha Corporation of America president Tom Sumner, both guitarists, also joined the group onstage.
One of the highlights of the event was a guest appearance by David McMahon, 93, a World War II veteran suffering from advanced dementia. According to his caretakers, McMahon – a former semi-professional guitarist – had nearly forgotten he knew how to play before Nettesheim visited his assisted-living facility last year to present him with a Yamaha acoustic guitar as a gift from Guitars for Vets. With the guitar in his hands, McMahon's skills returned quickly, and he has been playing regularly ever since. His caretakers and family accompanied him to the 21 Guitar Salute, where he took the stage and played a song with his G4V instructor, Steve Vogt.
G4V provides veterans suffering from PTSD with lessons on the guitar and a forum to play as a means to heal and cope. Since its inception in 2007, G4V has grown to support 110 chapters in 43 states, operated by over 400 volunteers. Each student in the program is presented upon graduation with his or her own guitar pack, the crown jewel of which is a new Yamaha acoustic guitar. Graduates describe their guitars and the music they play as a way to ease their pain, give them focus, build their self-esteem and strengthen their sense of purpose.
Yamaha has been supplying G4V with guitars since 2012 at dealer cost, making it practical for G4V to expand to its current scope. To date, through this cooperative effort, over 2,000 new Yamaha guitars have been awarded to grateful veterans as they graduate from the PTSD rehabilitation program, along with an additional 100 guitars donated outright by Yamaha.
"We've come a long way since our early days as two guys with guitars visiting our brother and sister veterans in a VA hospital here in Milwaukee; we're joining with hundreds of volunteers to bring relief through music to veterans nationwide every day," said Nettesheim. "Our partnership with Yamaha has helped us grow by leaps and bounds, giving us the resources to expand to over 100 G4V chapters nationally, though there's nothing quite like seeing that success come to life on stage like this."
"Guitars for Vets is right in tune with the charitable and humanitarian mission of Yamaha; we're grateful to Patrick for the continued opportunity to channel our craft and talent toward healing for those who have given so much of themselves," said Sumner of the partnership. "We are happy to put our efforts toward some measure of appreciation for our veterans when they need us."
National PTSD Awareness Day is observed annually on June 27 as a day to recognize the effects PTSD has on the lives of those affected by it, including roughly 800,000 veterans. Historically, those who serve in our military have been especially susceptible: roughly 20% of American servicemembers deployed in the past six years have developed PTSD, and since the Vietnam War, more servicemen and -women have committed suicide than have actually died in battle.
For more information about Guitars for Vets, visit http://www.guitars4vets.org/
For more information about Yamaha Corporation of America, visit http://usa.yamaha.com
-END-
About Yamaha
Yamaha Corporation of America (YCA) is one of the largest subsidiaries of Yamaha Corporation, Japan and offers a full line of award-winning musical instruments, sound reinforcement, commercial installation and home entertainment products to the U.S. market. Products include: Yamaha acoustic, digital and hybrid pianos, portable keyboards, guitars, acoustic and electronic drums, band and orchestral instruments, marching percussion products, synthesizers, professional digital and analog audio equipment, Steinberg recording products and NEXO commercial audio products, as well as AV receivers, amplifiers, MusicCast wireless multiroom audio systems, Blu-ray/CD players, earphones, headphones, home-theater-in-a-box systems, sound bars and its exclusive line of Digital Sound Projectors. YCA markets innovative, finely crafted technology and entertainment products and musical instruments targeted to the hobbyist, education, worship, music, professional audio installation and consumer markets.