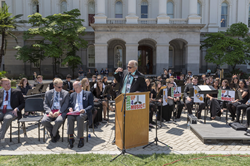 "Our advocacy, both in Sacramento and on Capitol Hill, sends an unmistakable message to state and federal officials who have the power to enrich the lives of our nation's youth," said David Jewell, partnerships and alliances manager, Yamaha.
SACRAMENTO, Calif. (PRWEB) May 14, 2019
Representatives from Yamaha and Taylor Guitars spearheaded this year's Stand Up 4 Music Advocacy Day, an event organized by the California Music Educators Association (CMEA) in partnership with The National Association of Music Merchants (NAMM).
A team of 15 delegates from NAMM's California membership of more than 2,300 companies traveled to Sacramento this week to appeal to state legislators to ensure that all students in California have equal access to high-quality instruction in music as part of a well-rounded education.
David Jewell, partnerships and alliances manager, Yamaha Corporation of America (YCA), and Barbara Wight, chief financial officer of Taylor Guitars, served as co-chairs for the event's committee. The two companies have corporate offices in Buena Park and El Cajon, respectively. The day of advocacy in Sacramento included delegate training, musical performances by eight student ensembles and meetings with the Governor's staff and state lawmakers representing 25 districts in California.
Participants in the advocacy day included delegates from California-based businesses Bertrand's Music, Creative Music Services, Gordon's Music & Sound, Guitar Center, Taylor Guitars, Tim's Music, Wedgie Music, and Yamaha Corporation of America.
"Music and arts education is core to offering a well-rounded education, which the federal Every Student Succeeds Act (ESSA) clearly expresses," affirmed Mary Luehrsen, director of public affairs for NAMM. "It is through the work of passionate NAMM delegates that lawmakers at both the state and federal level are actualizing funding support for music and arts education."
On May 22 Jewell will join a similar delegation in Washington, D.C. to discuss the importance of access to music and the arts. In meetings with Congressional leaders, NAMM representatives will communicate their support for full funding of ESSA. Congress currently appropriates $1.1 billion in total federal ESSA grant funding for states and local school districts nationwide; the delegation hopes to raise that amount to $1.65 billion, the maximum funding level authorized by the law.
"Our advocacy, both in Sacramento and on Capitol Hill, sends an unmistakable message to state and federal officials who have the power to enrich the lives of our nation's youth," said Jewell. "Music teachers, parents and students, not to mention child development experts, all consider music crucial to a proper education. Yamaha will remain actively engaged in the public square to support efforts to expand music education programs and to open up new horizons for all students."
-END-
About Yamaha
Yamaha Corporation of America (YCA) is one of the largest subsidiaries of Yamaha Corporation, Japan and offers a full line of award-winning musical instruments, sound reinforcement, commercial installation and home entertainment products to the U.S. market. Products include: Yamaha acoustic, digital and hybrid pianos, portable keyboards, guitars, acoustic and electronic drums, band and orchestral instruments, marching percussion products, synthesizers, professional digital and analog audio equipment, Steinberg recording products and NEXO commercial audio products, as well as AV receivers, amplifiers, MusicCast wireless multiroom audio systems, Blu-ray/CD players, earphones, headphones, home-theater-in-a-box systems, sound bars and its exclusive line of Digital Sound Projectors. YCA markets innovative, finely crafted technology and entertainment products and musical instruments targeted to the hobbyist, education, worship, music, professional audio installation and consumer markets.
About Taylor Guitars
Founded in 1974, Taylor Guitars is one of the world's leading manufacturers of acoustic guitars. Renowned for blending an innovative use of modern technology with a master craftsman's attention to detail, Taylor guitars are widely considered among the best sounding and easiest to play in the world. Many of today's leading musicians make Taylor their guitar of choice, including Jason Mraz, Zac Brown, Shawn Mendes and Taylor Swift, among many others.