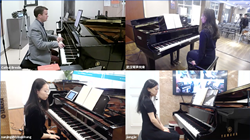 "Our students are excited by this technology and respond enthusiastically with Disklavier remote lessons. By enhancing the lesson experience, we're keeping students engaged in an online learning platform," said Cathal Breslin, assistant professor of Piano, ASU School of Music, Dance and Theatre.
TEMPE, Ariz. (PRWEB) November 16, 2020
When distance learning involves overseas students studying music, a Zoom call isn't quite good enough. So, on Oct. 22, Cathal Breslin, assistant professor of Piano in Arizona State University's (ASU) School of Music, Dance and Theatre, and a Yamaha Performing Artist, conducted a groundbreaking four-way "remote" piano masterclass, with participating students located in three Chinese cities — each student more than 6,500 miles away.
Students were introduced to a remarkable application of distance learning, thanks to cutting-edge Yamaha "Remote Lesson" technology and four internet-connected Yamaha Disklavier "reproducing" pianos located on ASU's Tempe campus and at Yamaha piano dealers in Beijing, Nanjing, and Wuhan, China. This marks the first-ever connection of Disklavier pianos in four different cities.
The Yamaha Disklavier, a unique, technologically advanced reproducing piano, enables highly-nuanced performance data – i.e., the actual key strokes and subtle pedal movements made by a performing artist – to be transmitted back and forth between similarly equipped instruments over the Internet, with perfectly synchronized video streaming between the locations.
The technology allowed Breslin to teach and evaluate "live" performances by three of his students: Wenyan Han, a first-year doctoral student at ASU, located in Beijing; Ziyi Lyu, a sophomore at ASU, located in Nanjing; and Ruiya Zhong, a freshman at ASU, located in Wuhan — each restricted from returning to ASU's campus in the United States due to the COVID-19 pandemic.
From his teaching studio at the ASU School of Music, Dance and Theatre, in the Herberger Institute for Design and the Arts, Breslin could see, in real-time, the depth of keys and pedals the students used, not on their piano, but the Disklavier in front of him. After the performances, Breslin offered valuable insight to each of the students over video chat while playing his Disklavier remotely to visually illustrate his points. With perfectly synchronized video streaming between the four locations, teacher and student performed back and forth for one another, as if they were sitting on the same piano bench in the same room.
"The personal nature of piano lessons requires real-time, one-on-one instruction, and this technology allows us to virtually uphold that personal connection," says Breslin. "Our students are excited by this technology and respond enthusiastically with Disklavier remote lessons. By enhancing the lesson experience, we're keeping students engaged in an online learning platform."
For ASU, one of the top ten universities in the U.S. for hosting international students, the goal is to bring this opportunity to more global learners. Disklavier technology showcases an elevated way in which students can be taught from one piano to another, regardless of where they are located — especially at a time when distanced learning is essential for music students around the world. In addition to current established partnerships with Yamaha China and Yamaha Korea, new relationships with Yamaha UK and Ireland allow Breslin an even greater global reach.
While video streaming services such as Zoom have become immensely popular in distance learning settings, these technologies are, by their very nature, one dimensional. In stark contrast, Disklavier Remote Lesson technology seamlessly extends the onscreen piano performance out to the piano itself at all participating locations, bringing a mesmerizing, 3-Dimensional quality to the learning experience. Moreover, this technology enables prospective students located anywhere in the world to audition remotely without having to travel, providing them an enhanced appreciation for ASU's forward-thinking music education offerings.
The four-way remote masterclass follows another, held on Oct. 15, between ASU and Yamaha Seoul in Korea, marking the university's first remote lesson performed with a foreign country. Three prospective students located in Seoul, and applying to ASU, participated in the masterclass taught by Breslin. The "remote" piano masterclass furthers ASU's ability to recruit while providing those students interested in applying an opportunity to participate in masterclasses, giving them exposure to the school, the program and Breslin himself.
The Disklavier technology has inspired Breslin to expand the use of its capabilities. In the future, Breslin hopes to develop a degree program that utilizes Disklavier pianos located in different countries, ultimately offering students the ability to study with him and ASU remotely, without the need or want for travel.
As an ever-evolving technological staple in music education, the Yamaha Disklavier has earned a formidable reputation at education institutions around the world both for its artistic qualities and its ability to reproduce stunningly accurate, note-for-note performances — ideal in the sharing of lesson and performance content.
For more information about ASU's School of Music, Dance and Theatre, please visit https://musicdancetheatre.asu.edu
For more information about Yamaha pianos in educational and institutional settings, please visit http://www.yamaha.io/YamahaISG
-END-
About Arizona State University's School of Music, Dance and Theatre
The School of Music, Dance and Theatre in the Herberger Institute for Design and the Arts at Arizona State University is widely recognized for preparing artists, scholars, visionaries and entrepreneurs to become creative leaders who transform society through their art. Its internationally recognized faculty artists, scholars and guest artists are motivating and compassionate mentors who work with students to cultivate excellence and personal growth. Nationally recognized programs feature a comprehensive range of degrees plus minors and certificates and more than 600 concerts, events, performances, productions and recitals each year. Located in the culturally rich Southwest in one of the most vibrant, expanding urban centers, the school's programs afford students access to a diverse environment and engagement in Phoenix's flourishing arts community. Above all, ASU's School of Music, Dance and Theatre values the creativity, personal experience and voice each student brings to the school.
About Yamaha
Yamaha Corporation of America (YCA) is the largest subsidiary of Yamaha Corporation, Japan and offers a full line of award-winning musical instruments, sound reinforcement, commercial installation and home entertainment products to the U.S. market. Products include: Yamaha acoustic, digital and hybrid pianos, portable keyboards, guitars, acoustic and electronic drums, band and orchestral instruments, marching percussion products, synthesizers, professional digital and analog audio equipment, Steinberg recording products and NEXO commercial audio products, as well as AV receivers, amplifiers, MusicCast wireless multiroom audio systems, Blu-ray/CD players, earphones, headphones, home-theater-in-a-box systems, sound bars and its exclusive line of Digital Sound Projectors. YCA markets innovative, finely crafted technology and entertainment products and musical instruments targeted to the hobbyist, education, worship, music, professional audio installation and consumer markets.