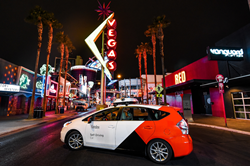 MOSCOW (PRWEB) January 17, 2019
Last week, Yandex's self-driving car navigated the public streets of Las Vegas during CES 2019 without an operator behind the steering wheel. The car safely delivered dozens of passengers to and from the Hard Rock Hotel and Casino to demonstrate the latest advancements of Yandex's self-driving technology and the scalability to operate the vehicle against new traffic conditions in Las Vegas.
Starting in late November, the Yandex team retrofitted a Toyota Prius with an array of radars, lidars, and cameras that interpret the world around the car. Radars are located in the front and rear bumpers, the lidars are on the roof, and five cameras mounted around the car capture 360-degree video. The combined sensors can identify objects within a 200-meter radius of the car. This incoming information is processed by the custom-built computer that sits in the trunk of the car, which runs on proprietary software built by our team.
Passengers could see the car processing the world around it on two tablets, one mounted on the dashboard by the safety engineer and the other on the center console for rear passengers. Passengers were able to track the car in real-time on a high-definition map of the streets it was traversing, including the planned and possible routes of the vehicle in addition to 3D models of vehicles, pedestrians, and dynamic icons of traffic lights.
During the two week period mapping and planning the demo route, the Yandex self-driving team also coded a few adjustments to allow the vehicle to safely operate in the local traffic conditions. For instance, the team made adjustments for the appearance of the lanes on the local streets and to properly yield to traffic at blinking yellow lights.
The passengers experienced the car yielding to cars and pedestrians on unprotected left-hand turns, changing lanes on a four-lane road at the 45 mph speed limit, and reading traffic lights with the onboard cameras. While Yandex provided rides on predefined routes to demonstrate the car against different challenges, the car could travel between any two points in the mapped area.
Each ride the team provided to passengers proved to be a unique experience and another important step towards the development of self-driving technologies. Yandex looks forward to doing more with their self-driving technologies in the U.S. in the future.