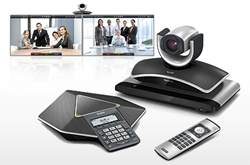 No licensing or additional components are required; all of the systems' great features are ready to go out of the box.
Oak Creek, WI (PRWEB) May 28, 2015
Yealink, the global leading UC solution provider in the world, and Video Conferencing Supply, the number one specialty video conferencing reseller, is proud to introduce the Yealink VCS.
Yealink VCS is a high performance, low cost series of video conferencing systems for small- and medium-sized businesses. Both systems offer essential features like HD 1080p video, super-HD audio, content sharing, call recording and dual monitor support. The VC400 also features a four-way 1080p MCU for multiparty calling.
Pay the upfront cost of the Yealink video conferencing system and nothing else. No licensing or additional components are required; all of the systems' great features are ready to go out of the box.
Other benefits of the Yealink VC series include anti 8% packet loss protection, adaptive bandwidth technology and intelligent firewall traversal. Deploy the systems on any network with ease, and enjoy high-quality audio and video under any condition.
Video Conferencing Supply is giving businesses and organizations an opportunity to try the Yealink VCS, for free. After a returnable deposit, and shipping and handling charges, the Yealink VCS Demo Kit is available for a two-week trial. It includes the VC400 system with embedded MCU and a lockable travel case.
Very few, if any, video conferencing systems offer as many benefits as the Yealink VCS. The Yealink VCS Demo Kit is an unprecedented opportunity for businesses to test out this top-of-the-line solution. Video Conferencing Supply can be contacted by phone or email, or visit: http://www.videoconferencingsupply.com.
About Video Conferencing Supply
Video Conferencing Supply's mission is to deliver affordable video conferencing solutions to businesses and organizations in every industry. From audio equipment and displays, to premise- and cloud-based conferencing systems, Video Conferencing Supply carries it all.
About Yealink
Yealink delivers reliable UC solutions to the world, globally recognized as a leading VoIP and video endpoint provider. The solutions combine voice, video and data into easy to use terminals. Businesses of all sizes can make the most of their unified communications deployments.