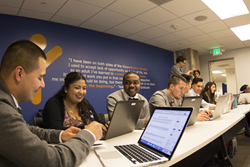 "As one of the fastest growing job markets in the nation, Arizona needs a qualified workforce to fill these positions, and Year Up Arizona is helping local youth prepare for those opportunities," said American entrepreneur and philanthropist Bob Parsons.
PHOENIX (PRWEB) September 12, 2018
Thanks to a $750,000 grant from The Bob & Renee Parsons Foundation, Year Up Arizona will expand its operational capacity to provide higher education and professional career opportunities to low-income young adults who are not currently in school or employed. The program offers a free, one-year job training curriculum for motivated individuals, ages 18 to 24, in Maricopa County.
"As one of the fastest growing job markets in the nation, Arizona needs a qualified workforce to fill these positions, and Year Up Arizona is helping local youth prepare for those opportunities," said American entrepreneur and philanthropist Bob Parsons. "With the right education and skills, these students will enjoy the benefits of being part of helping Arizona grow."
The grant will allow Year Up Arizona to serve additional youth at their campus located at GateWay Community College in Phoenix. Students receive the education needed to develop in-demand technical and professional skills before participating in a six-month internship with a top local company, earning college credits and a weekly stipend throughout the year.
"Although our economy is strong, we believe that an important segment of our society is being left behind," said businesswoman and philanthropist Renee Parsons. "We're proud to have supported the initial launch of Year Up programming in Arizona and have been impressed with both the impact of the program and the growth over the last three years."
In 2015, The Foundation provided a $500,000 grant to help launch the Year Up program in Arizona, and with this most recent donation it is the organization's largest financial supporter with a total investment of $1.25 million.
"The Bob & Renee Parsons Foundation is the largest supporter of our cause, bringing much-needed job training and education to local, underserved youth," said Year Up Arizona Executive Director Kim Owens. "This funding has a significant impact on our ability to facilitate growth and provide an equal opportunity for these young adults to be successful in their careers and financially independent for the rest of their lives."
A federally-sponsored evaluation conducted by Pathways for Advancing Careers and Education (PACE) found that the Year Up program has the largest positive impact on earnings for a workforce program tested in a randomized controlled trial.
Since its inception, Year Up Arizona has provided more than 530 young adults with in-demand skills training, creating a pipeline of diverse, motivated talent for leading businesses in areas such as IT, cyber security, business operations and computer programming. The program now serves more than 200 young adults each year, with 90 percent of graduates employed or attending college full-time within four months of completing the program, earning an average starting salary of $34,000 per year. For more information about Year Up Arizona, visit https://www.yearup.org/.
About Year Up
Year Up is an award-winning, national 501(c)3 organization that provides talented and motivated young adults ages 18-24 with the skills, experience and support that will empower them to reach their potential through professional careers and higher education. Through a one-year, intensive training program, Year Up utilizes a high-support, high-expectations model that combines marketable job skills, stipends, coursework eligible for college credit, and corporate internships at more than 250 top companies. Its holistic approach focuses on students' professional and personal development to enable young adults with a viable path to economic self-sufficiency and meaningful careers. Year Up has served more than 19,500 young adults since its founding in 2000 and will serve more than 4,000 young adults in 2018 across 21 U.S. cities in Arizona, Baltimore, Bay Area, Chicago, Dallas/Fort Worth, Greater Atlanta, Greater Boston, Greater Philadelphia, Jacksonville, Los Angeles, National Capital Region, New York City, Providence, Puget Sound, South Florida, and Wilmington. Year Up has been voted one of the "Best Non-Profits to Work For" by The NonProfit Times for eight consecutive years and is rated a 4-star charity by Charity Navigator for twelve consecutive years, placing them in the top 1 percent of tracked organizations.
To learn more, visit http://www.yearup.org, and follow us on LinkedIn, Facebook, and Twitter: @YearUp
About The Bob & Renee Parsons Foundation
The Bob & Renee Parsons Foundation offers support to nonprofit organizations successfully working to empower, educate, nurture and nourish people during what is often the darkest time of their lives. Founded in 2012 by philanthropists and business leaders Bob and Renee Parsons to provide hope and life-changing assistance to the country's most vulnerable populations, The Bob & Renee Parsons Foundation offers critical funding at critical times to those in need. The Foundation's giving is driven by the core belief that all people – regardless of race, religion, roots, economic status, sexual orientation or gender identity – deserve access to quality healthcare, education and a safe place to call home. Follow @WeDealInHope on social media or visit TBRPF.org, to learn more about partner organizations and the important work being done in the community.