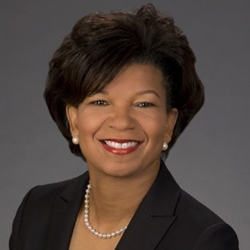 "Since 2009, Year Up Greater Atlanta interns and graduates have redefined what talent looks like—and where it comes from," said Jackson. "As Executive Director, I'm excited to build on their success and help even more underserved young adults reach their full potential."
ATLANTA (PRWEB) August 15, 2018
Continuing to expand its proven workforce development program, Year Up has appointed Grace Jackson as Executive Director of Year Up Greater Atlanta (YUGA), effective July 9, 2018. With more than twenty years of senior leadership experience in the financial services industry, Ms. Jackson previously served as the Chief Operating and Strategy Officer for Raymond James Bank. She joined Year Up Greater Atlanta students and staff to celebrate the Class 18 Core and Class 3 Professional Training Corps (PTC) graduation at the Georgia World Congress Center on July 26, 2018.
"Grace's extensive expertise in collaborating with C-suite executives and in developing strategy and leading initiatives will allow us to continue growing Year Up Greater Atlanta through new corporate partnerships and skills training aligned with companies' talent needs," said Gerald Chertavian, Year Up Founder and CEO. "She is committed to closing the Opportunity Divide for young adults across Atlanta, and to scaling Year Up's impact and reach across the metropolitan area to serve 400 young adults through the end of 2018."
Year Up Greater Atlanta provides free job training to talented and motivated young adults, ages 18-24, without college degrees at campuses in Midtown and at Atlanta Technical College (ATC). Students gain in-demand technical and professional skills in the first six months, then participate in a six-month internship at a top local company. In June, the federally-sponsored Pathways for Advancing Careers and Education (PACE) evaluation of Year Up showed a 53% increase in initial earnings for young adults randomly assigned to Year Up compared with similar young adults in a control group—the largest impact on earnings reported to date for a workforce program tested in a randomized controlled trial.
"Since 2009, Year Up Greater Atlanta interns and graduates have redefined what talent looks like—and where it comes from," said Jackson. "As Executive Director, I'm excited to build on their success and help even more underserved young adults reach their full potential. I enjoyed celebrating the most recent class of graduates as they launch meaningful careers at companies like AT&T, Elavon, Kaiser Permanente, Cox Enterprises and the Coca-Cola Company."
Prior to Raymond James Bank, Ms. Jackson served as the Credit Advisory Service Executive for a 130-plus organization within SunTrust Bank. She was responsible for managing a P&L, $8.1Billion in assets and establishing the strategy for delivery of Wealth Management Products and Services across the enterprise. Grace held executive leadership positions in Private Wealth at Wells Fargo prior to joining SunTrust. Ms. Jackson has a Bachelor of Science degree in Comprehensive Marketing from Illinois State University and a Masters of Business Administration degree in finance from the Katz Graduate School of Business from the University of Pittsburgh. She is an active participant in the Atlanta civic and charitable communities.
At the July 26th graduation ceremony, 125 young adults received certificates from Year Up, recognizing their successful completion of the year-long program. Since 2009, Year Up Greater Atlanta has provided more than 1,710 students with in-demand skills in areas such as fund accounting, introductory JAVA, time management and business writing, creating a pipeline of diverse, motivated talent for more than 50 top companies in the region. Year Up Greater Atlanta now serves more than 400 students each year, with 92 percent of graduates employed or attending college full-time within four months of completing the program, earning average starting salaries of $36,000/year. Learn more about Year Up Greater Atlanta by visiting us on Facebook and Twitter.
About Year Up
Year Up is an award-winning, national 501(c)3 organization that provides talented and motivated young adults ages 18-24 with the skills, experience, and support that will empower them to reach their potential through professional careers and higher education. Through a one-year, intensive training program, Year Up utilizes a high-support, high-expectations model that combines marketable job skills, stipends, coursework eligible for college credit, and corporate internships at more than 250 top companies. Its holistic approach focuses on students' professional and personal development to enable young adults with a viable path to economic self-sufficiency and meaningful careers. Year Up has served more than 19,500 young adults since its founding in 2000, and will serve more than 4,000 young adults in 2018 across 21 U.S. cities in Arizona, Baltimore, Bay Area, Chicago, Dallas/Fort Worth, Greater Atlanta, Greater Boston, Greater Philadelphia, Jacksonville, Los Angeles, National Capital Region, New York City, Providence, Puget Sound, South Florida, and Wilmington. Year Up has been voted one of the "Best Non-Profits to Work For" by The NonProfit Times for eight consecutive years, and rated a 4-star charity by Charity Navigator for twelve consecutive years, placing them in the top 1% of tracked organizations.
To learn more, visit http://www.yearup.org, and follow us on LinkedIn, Facebook, and Twitter: @YearUp