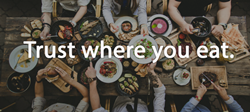 My son has a peanut allergy and we have had the unfortunate experience of taking numerous trips to the ER
GILBERT, Ariz. (PRWEB) December 20, 2018
Consumers can now see over 1.1 million health inspection ratings for any establishment including; restaurants, childcare, schools, hospitals, health clubs, coffee shops, gas stations, drive-thru, and stadiums. The app allows you to search locally as well as across the nation, with the ability to "favorite" establishments you will always be updated on their most recent health inspection score. The scoring is done based off a percentage from 0-100, the closer to 100% the cleaner the establishment. HDScores is a trusted partner with companies such as Yelp providing Health Data information from local health jurisdictions.
The app was inspired by parents and family members of allergy sufferers who were tired of crossing their fingers every time they dined out, hoping it would not end in an emergency room visit. Since 2012 the company has discovered 28 million reported health violations in the metropolitan population of the United States. HDScores aims to hold establishments to a higher expectation when it comes to food handling. With this information, the company's goal is to reduce the number of hospitalizations that occur each year due to poor food handling.
Glynne Townsend, Partner, and COO of HDScores, "My son has a peanut allergy, and we have had the unfortunate experience of taking numerous trips to the ER to have him treated due to inadvertently eating food contaminated with peanuts. Dining out for us shouldn't have to be a nerve-wracking experience. However, it is when the server assures us they will have the kitchen take care of it. Until now you had no idea of the kitchen's ability to do so, now you do."
About HDScores - HDScores was founded in 2011, by a pastry chef, data scientist, and an accountant. The company is now headquartered in Gilbert, AZ where it monitors over 1.1 million establishments each week with its fleet of databots. The company has been developing and testing its database for over six years, with the past two being in conjunction with Yelp to help enhance the overall dining experience.