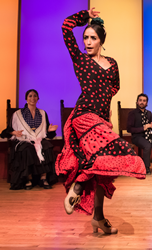 ALBUQUERQUE, N.M. (PRWEB) March 25, 2021
The National Institute of Flamenco announces the start of the 2021 Yjastros season, streaming live from Tablao Flamenco Albuquerque – an intimate, authentic performance space located within Hotel Albuquerque at Old Town – on April 9 and 10 beginning at 8 p.m. MDT.
Viewing passes are available now at https://www.nifnm.org/yjastros-current-season. Passes are $20 or $50 with a donation to support the Yjastros Artist Fund, and provide access to the livestream through April 17.
This special performance season grows from Yjastros Artistic Director Joaquin Encinias and company members' return to the art of flamenco in a tablao setting. Similar to a club dedicated to jazz music, a tablao is a performance venue especially made for flamenco. Tablaos are typically smaller venues with a stage surrounded by close-up seating where audience members can eat, drink and take part in an intimate performance.
After more than a year of performance venues around the world being shuttered due to the pandemic -- and many of Spain's most iconic tablaos closing their doors forever -- Yjastros is privileged to be able to perform in the beautiful Tablao Flamenco Albuquerque. Tablao performance highlights the dynamic and spontaneous interplay of musicians and dancers in jam session-style performance that transmits the excitement and the intimate exchange that can happen when improvising.
In preparation for this event, Encinias and Yjastros members have embarked on a deep investigation of the finer skills of tablao performance. To share this process, leading up to the weekend of performance, the National Institute of Flamenco will present the first episode of a web series -- The Language of Tablao -- on April 2 via their YouTube and Vimeo channels, free to the public. Join the National Institute of Flamenco and Yjastros for a vibrant and thrilling season of flamenco.
About Yjastros: The American Flamenco Repertory Company
In 1999, Yjastros: The American Flamenco Repertory Company set forth on an artistic journey that would become America's most distinctive flamenco project. This revolutionary performance entity combined the mosaic quality of the American repertory company with the authentic idiom of flamenco, creating a living archive of choreographic masterworks.
About the National Institute of Flamenco
The mission of the National Institute of Flamenco is to preserve and promote flamenco's artistry, history, and culture by presenting the finest flamenco in the world and by educating the American family in this art form while emphasizing the positive influence of art on family and community. Learn more at NIFNM.org.