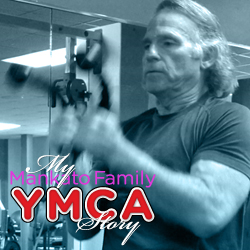 My YMCA story is like the story of others who have the dedication to stay fit, active and healthy by working out and exercising when they are in their early 60s and beyond.
Mankato, Minnesota (PRWEB) November 29, 2016
Gary Pettis, a native of Mankato, Minnesota, created and posted on YouTube a short video to share his unique story as a member of his local YMCA, from his perspective as a 61-year-old man who enjoys spending time working out in a gym and leading an active and fitness-centered life.
Pettis submitted the video in response to the organization's request to members that they share their "Y" stories. The video's contents offer examples of how positive results from exercise and fitness participation are possible for everyone, including people entering their senior years.
"I can't remember a time when there was not the Mankato Family YMCA," said Pettis. "I walked, biked and drove by the old Y building countless times."
After graduating from what was then Mankato State University, Pettis moved from Mankato to the Twin Cities. When he was away, the size and shape of the Y's building changed. The number of members rose significantly. Now in his early 60s, and back in his hometown, Pettis puts his knowledge, skills, and body to the test every time he enters the Mankato Family YMCA.
Living in the Twin Cities, Pettis took advantage of a fitness scene that a major metropolitan area offers. He joined in on yoga, Pilates and boxing classes. However, building strength and improving stamina through weight lifting became his passion after learning techniques, understanding results tracking and experiencing a fair amount of trial and error. A frequent business traveler, Pettis exercised in gyms and health clubs discovered in the different U. S. and overseas cities that he visited.
"After returning to my hometown, I became a Y member again and started working out in the weight room and participating in fitness classes," Pettis said. "Considering how interwoven the Mankato Family YMCA is in my own life's history, I've received noticeable results in the last couple of years from the time spent at the Y, lifting weights, attending classes, learning from others and improving my swimming abilities."
According to Pettis, the Mankato Family YMCA serves its group of local members by providing the facility, the exercise equipment, the sports programs, and the family-centered activities to help members stay fit, commit to active lifestyles, and feel part of a larger member community. It has established the principles and values that help members foster long-term relationships with members, volunteers and staff employees.
The Mankato Family YMCA is a non-profit organization dedicated to youth development, the community's health and wellness, and giving back and supporting its neighbors. Its address is 1401 South Riverfront Drive, Mankato, Minnesota. To learn more visit the Mankato Family YMCA Website. Connect with Gary Pettis on LinkedIn.