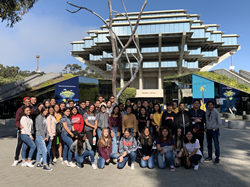 "This program ensures they get the exposure and support they need to make informed decisions about post-high school pathways." - Gaby Millan, Executive Director for the Border View Family YMCA
SAN YSIDRO, Calif. (PRWEB) February 05, 2020
The Border View Family YMCA and Winward Academy recently expanded their college readiness program beyond the classroom and onto local college campuses. As part of the program to improve college access and college readiness for Advancement Via Individual Determination, or AVID, students at San Ysidro High School, they organized a campus crawl of local colleges including University of California, San Diego (UCSD), University of San Diego (USD) and San Diego State University (SDSU).
"Being ready for college certainly requires strong study skills and core competence in academics," said Winward Academy Founder and CEO Dr. Jennifer Winward. "But above and beyond those areas, students must also know what questions to ask - what resources exist to support them, what challenges current students overcame and how, and how to find a community in a new home on a college campus."
This campus crawl was designed to deliver exactly that exposure for San Ysidro youth.
To ensure students achieved a more meaningful experience, the campus crawl was designed to be more than a tour – it was about asking questions of current students, attending a professor's lecture and interacting with current students at the library, gym and common areas.
Jesse Magaña, a fourth-year student at USD, led a Q&A with the San Ysidro high school students. "Being able to share my journey as a first-generation student with the San Ysidro students allowed me to fulfill a promise I made to myself as I navigated higher education: to create space for younger generations to understand that they - as much as anyone else - deserve the space they occupy within the context of higher education."
"Central to our efforts to reach more adolescents and promote healthy youth development, the YMCA supports local schools that serve underrepresented youth by giving them access to resources and experiences that build skills and confidence for life," said Gaby Millan, Executive Director for the Border View Family YMCA. "Seeing the high school students participate in a college class, ask questions of college students and explore the college bookstores for t-shirts and notebooks reinforced the importance of this program."
The YMCA College Readiness Program is made possible through generous donations from City of San Diego Councilmember Vivian Moreno's office, San Diego Gas & Electric, South Bay Community Services and Winward Academy. The ultimate goal is to help AVID students embrace great study habits, build confidence and succeed in college and beyond.
"In many cases, AVID students will be first in their families to attend college," added Millan. "This program ensures they get the exposure and support they need to make informed decisions about post-high school pathways."
To support the YMCA College Readiness Program, please contact Gaby Millan at (619) 428-9622.
About the YMCA of San Diego County
The YMCA of San Diego County is the second largest Y Association in the nation serving nearly 500,000 San Diego County residents and employing more than 5,500 people. Through a variety of programs and services focused on youth development, healthy living and social responsibility, the Y unites men, women and children - regardless of age, income or background - to nurture the potential of children and teens, improve the nation's health and well-being and provide opportunities to give back and support neighbors. The YMCA of San Diego County is dedicated to improving the quality of human life and to helping all people realize their fullest potential as children of God through the development of the spirit, mind and body. Visit http://www.ymcasd.org to find your local YMCA or call (858) 292-YMCA (9622).
About Winward Academy
Test success, college success, and life success – they all begin at Winward Academy, a research-based, student-centered learning platform for the ACT, SAT, math class, and college applications. Winward Academy applies a scientific approach to customize learning for each student, enabling growth for students of all levels and learning styles. Winward Academy is a team of passionate adolescent learning researchers committed to thoughtfully developing curriculum that improves learning, retention, and test performance – building confidence for life. Winward Academy curriculum is used by students at home, by teachers in the classroom, and by charities in after-school and summer programs. For more information on Winward Academy, see winwardacademy.com or follow the company on Facebook, Instagram, or Twitter.