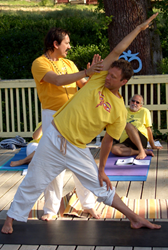 An asana is a posture which acts on a specific pressure area, thereby releasing the built-up prana, energy, or vital force.- Swami Vishnudevananda from the Book Upadesa
Los Angeles, California (PRWEB) April 11, 2014
The workshop discussions will focus on musculoskeletal and neuro-muscular functions involved in the yoga postures.
Course participants will learn how injury and healing occur and understand hatha yoga as instrumental in rehabilitation and in preventing injury.By finding the union between yoga and the basic understanding of anatomy, attendees will be more knowledgeable and confident when practicing and teaching yoga.
Participants will have the opportunity to be involved in the activities of a classical yoga ashram: taking part in Satsang (silent meditation, chanting and lecture), yoga classes-Yoga asanas (postures), Pranayama (breathing), healthy and delightful brunches and dinners, karma yoga, free time, nature walks, meditation twice daily, and of course, workshops on Anatomy and Yoga.
There are no prerequisites for this course.
It is recommended for the participants to spend at least a few days at the Yoga Farm before the start of your course. This allows your body and mind to rest, re-energize and be nourished by the ashram environment. You can then bring your study feeling relaxed and refreshed.
Course attendants are adviced to use the textbook Anatomy for Hatha Yoga by David Coulter and to bring slip on shoes, loose comfortable clothing,water bottle, writing materials, meditation shawl or blanket, yoga mat, flashlight.All books and materials are available in the Ashrams boutique.
About Swami Pranavananda
Swami Pranavananda took the vow of Sannyas in 1995. He is a gifted teacher who is the main hatha yoga teacher at the ashram and teaches the Anatomy and Physiology section of our Teachers Training Course. He co-directed the San Francisco Center for five years. A talented musician, he enjoys leading kirtan and bhajan chanting sessions during satsang. http://www.sivanandayogafarm.org/swami_pranavananda
All courses and retreats offered at the center provide a fantastic opportunity to awaken or deepen your yoga practice, meet old and new friends, and to be a part of the global yoga community which is growing each day. The experience provides a great way to find long lasting happiness, peace and the ability to share a yogic lifestyle with others.
In 1971, Swami Vishnudevananda returned to California and founded the third ashram in the young Sivananda International organization: the Sivananda Ashram Yoga Farm on 40 acres of land located in the Gold Country of the beautiful Sierra Nevada Foothills in Northern California. The non-profit, non-sectarian ashram offers yoga classes, retreats and teacher training courses for students of all abilities. The ashram is led by Swami Sitaramananda. For more information, please visit http://www.sivanandayogafarm.org. The ashram also organizes a Sivananda Yoga teacher training course in Vietnam.
"Swami Sivananda of Rishikesh taught Yoga-Vedanta, which came to the West through his many disciples like Satchidananda, Vishnudevananda, Ventakeshananda and Jyotirmayananda. The Sivananda Yoga-Vedanta centers founded by Swami Vishnudevananda teach regular programs on Yoga-Vedanta and with references to Ayurveda as well. I have done many programs with this organization and find it to be the best Yoga training group in the west." - Dr. David Frawley