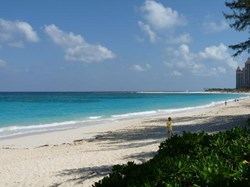 Paradise Island, Bahamas (PRWEB) January 02, 2014
In this course, students will be able to explore various dimensions of healing with sound: the scientific, the yogic, the creative, and the shamanic. Such practices promote a state of euphoria leading to enhanced wellness and greater success in all areas of life. This course combines master classes, lectures, devotional chanting sessions, clinics, movement, and music making. It offers a precious opportunity to experience the transformative power of sound and music with two renowned scholars and clinicians.
For more information, please call 1-866-559-5167 or visit http://www.sivanandabahamas.org
Special emphasis will be given to voice development, creative expression, and recent molecular research on sound and its systems applications in modern stress theory and all forms of healing. Learn how to incorporate the gift of opening the voice in your personal life and deepening the nature of your practice with a renewed spiritual emphasis. Teachings can be integrated into all healing modalities including medicine, nursing, chiropractic, osteopathy, psychotherapy, bodywork, music performance, wellness and Yoga classes, and all energy therapies.
Topics of this course include:
The Science of Sound, Voice & Yoga: methods to integrate sound, chanting, Yoga, and healing, using the ancient energy principles based on modern scientific research
Tuning Your Nervous System: BioSonic tuning forks apply sound to the body to help manage pain and increase joint mobility
Balancing the 5 Elements through Music, Voice & Movement
Devotion through Sound: Shabda, Nada Yoga, Bhava Yoga, Bhakti chants and Kirtan, Tantric chanting, sound mudras, and medicine melodies to unite with the flow of the Divine
Release Points of Tension & Flexibility in the Voice: practices based on ancient and modern vocal technique to assist any voice impediment
Musical Expression & Technique: become familiar with the 108 Vocal-Art Strategies of Yoga of the Voice training to compose and share healing sound and music
Vocal Metabolism: stimulate the brain and enhance memory through call and response chanting
The Singing Spine & the Chakra System: scanning and vocal purification practices open, cleanse, and revitalize the energy centers and the subtle body
Mystic Scales & the Art of Melody: Raga singing and Rasas
Musical Shamanism: the indigenous and primordial experience of cosmic sound and nature.
Sound & Consciousness: the art and science of euphoria — trance, ritual, and ceremonial sound awaken luminous states of consciousness and a joyous sense of well-being.
Clinics & Supervised Practice Time
Sacred Sound Ceremonies: uninterrupted sessions of vocal meditation, kirtan, mantra power, shamanic journey, and the repetition of syllables with an intent. Each practitioner will take home a personal musical sadhana.
John Beaulieu, ND, PhD, is a composer, sound healer, counseling psychologist, and board certified naturopathic physician and Polarity Practitioner. He is a world leader in the use of integrative energy medicine for healing and well-being. Dr. Beaulieu is the founder of BioSonic Enterprises, Ltd., a company dedicated to tuning the world, and a Professor of Integrative Health Studies at CIIS University. He is the author of Human Tuning, Music and Sound In The Healing Arts, Bellevue Memoirs, and Polarity Therapy, as well as numerous research papers. He has released six CD's including Calendula "A Suite For Pythagorean Tuning Forks". In his classes, Dr. Beaulieu generously draws upon his forty five years' experience in the healing arts, performing arts, and education to guide his students into greater understandings.
Silvia Nakkach, MA, MMT, has cultivated a voice that transports the listeners into the heart of devotion. She is an award-winning composer and voice-culturist, author, former psychotherapist, and a pioneer in the field of sound, consciousness, and music shamanism. She is the founding director of Vox Mundi School of the Voice, an international project devoted to teaching and preserving sacred music traditions with schools throughout the world. She has created and is in the faculty of the Sound, Voice, Music Healing Certificate at the California Institute of Integral Studies.
Located across the bay from Nassau, on one of the finest beaches in the world, the Sivananda Ashram Yoga Retreat is an island paradise with a tropical garden, crystal clear water and pure white sands - a true sanctuary of peace and natural beauty. Recognized among world Yoga Retreats, the ashram offers year-round programs presented by world renowned speakers, as well as certification courses on various yoga related topics through which you can expand your knowledge, gain a new skill and get certified while enjoying a joyous yoga practice and blissful relaxation. The Yoga retreat center also offers year-round Yoga teacher training programs, Ayurvedic Yoga Therapy Courses, Yoga for beginners, Yoga vacations and many other courses.
For more information, please call 1-866-559-5167 or visit http://www.sivanandabahamas.org.