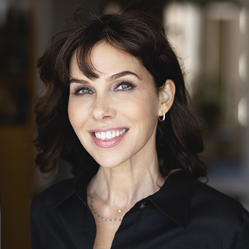 Wellness is a top priority for millions worldwide, and I am one of those millions. I look incredibly forward to bringing our boutique, concierge-level wellness experience to a global audience
LOS ANGELES (PRWEB) May 18, 2021
YogaWorks, the world's premier provider of yoga instruction and wellness content, has hired Cate Rubenstein as their Senior Vice President of Global Marketing. The announcement was made by company President Matt Schectman. Rubenstein is a veteran of Global/International market development, previously holding executive positions across marketing/branding, content, creative services and client Solutions for brands including BMG Records, Hard Rock Café, Planet Hollywood, Fox Interactive Media (including MySpace), 20th Century Fox Theatrical, Sony Pictures Entertainment, Way to Blue, Silicon Valley startup Glam.com/ MODE Media and Ipsos.
"We couldn't ask for a better person to join the global streaming wars than Cate," says Schectman. "Her experience with international marketing and outreach are unequaled. She gets it with YogaWorks, from building our subscription base and e-commerce verticals to expanding our world-class teacher base. Cate and I firmly believe that the sky's the limit in the wellness space for yoga."
"Cate brings a wealth of marketing and brand-building experience, along with a personal connection to YogaWorks and an appreciation for what makes YogaWorks special," says GoDigital Media Group COO Doug Reinart. "She's uniquely positioned to translate the values of YogaWorks to the incredible digital Yoga opportunity." GoDigital Media Group acquired the assets of YogaWorks in January to support its message of health, wellness and longevity.
Adds Rubenstein, "As a longstanding brand enthusiast, I'm excited about pivoting the YogaWorks brand to digital. The first yoga class I ever took was actually at a YW studio years ago - and defined for me how yoga should be. I look to continue the work of developing and refining our transition into new markets as well as in North America, while grounding our brand strategy and practice in core principles around Diversity and Inclusion."
"The entire YogaWorks team is critically focused on rebranding and repositioning, ensuring authenticity of the message remains, as well as preserving a unique history that led to becoming the gold standard of yoga training and teaching worldwide," says Rubenstein, "Wellness is a top priority for millions worldwide, and I am one of those millions. I look incredibly forward to bringing our boutique, concierge-level wellness experience to a global audience."
YogaWorks has successfully turned the corner on COVID last year, repositioning from brick and mortar studios to quickly execute a uniquely compelling online model for global live stream/on demand/ 2-way interactive content distribution.
About YogaWorks:
YogaWorks is the leading provider of gold standard yoga that promotes total physical and emotional well-being, where all are welcome. We cater to students of all levels and ages with both traditional and innovative programming. We also have a world renowned International teaching school, cultivating the richest talent from around the globe and setting the bar for teacher training. For more information on YogaWorks, visit yogaworks.com.