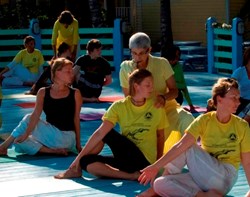 Great course!
Paradise Island, Bahamas (PRWEB) December 10, 2013
Develop ayogic lifestyle that suits a daily schedule and transform the outlook on work, family and life in general. Learn how to accommodate a period of meditation when starting the day, adapt the diet, and take care of the body and mind by practicing asanas. Students will learn how to recharge through practicing proper relaxation, how to detect stress and avoid it by applying a few simple breathing techniques and develop a positive thinking mind all day long.
Surya is an educator and a certified Sivananda Yoga teacher with diversified teaching experience at Sivananda Ashrams worldwide and at her Yoga studio in Mallorca, Spain. She also participated in numerous intensive meditation retreats during a period of 15 years. Surya knew Swami Vishnudevananda during the last 5 years of his life.
Located across the bay from Nassau, on one of the finest beaches in the world, the Sivananda Ashram Yoga Retreat is an island paradise with a tropical garden, crystal clear water and pure white sands - a true sanctuary of peace and natural beauty. Recognized among world Yoga Retreats, the ashram offers year-round programs presented by world renowned speakers, as well as certification courses on various yoga related topics through which you can expand your knowledge, gain a new skill and get certified while enjoying a joyous yoga practice and blissful relaxation. The Yoga retreat center also offers year-round Yoga teacher training programs, Ayurvedic Yoga Therapy Courses, Yoga for beginners, Yoga vacations and many other courses.
For more information, please call 1-866-559-5167 or visit http://www.sivanandabahamas.org.