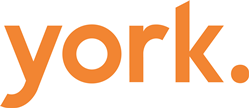 JERSEY CITY, N.J. (PRWEB) December 06, 2018
Duchene will oversee and manage all aspects of York's Managed Care solutions, reporting to Chairman and CEO Thomas Warsop.
With more than 20 years of experience in managed care and finance, Dennis most recently served as president and chief operating officer of CareWorks of Ohio, a York subsidiary. CareWorks of Ohio is the Managed Care Organization for more than 115,000 Ohio employers and serves the Bureau of Workers' Compensation to help injured workers get back to health, work and productivity.
"By bringing all our managed care teams together under Dennis' leadership, York will be well positioned to continue providing the right care and support for injured employees across the country. Dennis will ensure our teams deliver a great experience for our clients and claimants, and efficiently manage the operation for strong performance," says Warsop.
Prior to leading CareWorks of Ohio, Duchene held various leadership roles at market-leading firms including Arthur Andersen, American Electric Power and Dominion Homes.
Duchene holds a bachelor's degree in Business Administration from The University of Dayton. He is a chartered Global Management Accountant (CGMA), a member of American Institute of CPAs (AICPA), Institute of Management Accountants (IMA) and the Ohio Society of CPAs (OSCPA), and participates on the Ohio Small Business Council. He serves on the board of directors of the Ohio Chamber of Commerce and is president-elect for the Columbus chapter of the Association for Corporate Growth; he holds committee positions in both organizations. He has also supported the United Way of Central Ohio as co-chair of their Young Leadership Group and on the annual campaign committee.
About York
For more than 55 years, York has been delivering results our clients can see and feel. As a leading risk solutions provider, we serve corporations, the insurance industry and public entities to reduce risk and drive high-quality outcomes. We do this by offering integrated and customized solutions including risk management, claims administration, managed care and absence management. With our data-driven and compassionate approach, we deliver on our mission of reducing risk and getting people and organizations back to health, work and productivity.
York is headquartered in Jersey City, New Jersey. You can learn more at http://yorkrisk.com.