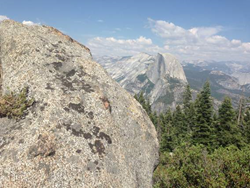 Yosemite National park, CA (PRWEB) February 25, 2014
The Half Dome preseason lottery will occur in March when thousands of outdoor enthusiasts will apply for the privilege to attempt the summit of the most sought-after peak in Yosemite National Park. The final portion of the trail leading to the cables has a restricted limit of 300 hikers per day with guidelines set forth by the park service in in correspondence with the Wilderness Act of 1964. These numbers were established to prevent overcrowding and promote safety on the wildly popular trail. Several steps can be taken to increase one's chances to succeed on this hike, and John P. DeGrazio, a lead guide for the local guiding company YExplore Yosemite Adventures shares some tips to enhance the Half Dome experience while promoting safety along the way.
"The most important aspect of this or any hike," DeGrazio opines "is to be prepared. This trek can last all day, up to fourteen hours or even more in some cases." John has reached the summit of Half Dome more than 100 times and has safely guided many Yosemite visitors up the cables on a regular basis each summer. "Hikers must prepare physically by training for this event and must carry some essentials like the proper amounts of food and water along the way." He outlines his keys to success on a recent post to his Yosemite Adventure Blog on the YExplore website.
The first step in being prepared is to visit the park's website for information on how to acquire a permit and then submitting an entry in the lottery. Those fortunate enough to gain access to the Sub Dome at the end of the Half Dome trail will have their names announced in early April. If awarded the prized ducats, hikers should begin their training immediately. Cardio exercises are most important and a routine should be developed to increase the workload as you approach your summit attempt. Arm strength is also crucial for pulling yourself up the infamous Half Dome cables, the final portion of the hike. On the day of the hike, it is critical to stay hydrated and eat plenty of food to provide energy. Other essential gear and information can be found on the YExplore Hike Half Dome page.
This rewarding journey may also be scheduled as part of an overnight Yosemite backpacking excursion as the demands of a one day journey may be too taxing for some. YExplore also leads those types of trips into the Yosemite wilderness.
About YExplore
Founded in 2006, YExplore Yosemite Adventures is the only Yosemite Tour Company offering custom guided experiences (Adventure Hikes, Half Dome Hikes, Multi Day Backpack Trips, Nature Walks, Birding Walks, Wildflower Walks, Snowshoe Hikes and Photography Workshops) 12 months a year. Their mission is to encourage travelers of all ages to get outside and make a connection with nature and wilderness through educational outdoor adventures that inspire personal growth while developing a deeper understanding of conservation and stewardship. YExplore is a socially responsible company that implements Leave No Trace principles on every outing to minimize their impact in nature and ensure that the ecology of Yosemite will not be compromised. John P. DeGrazio is the company's founder and continues to lead Yosemite trips with visitors of all ages and nationalities to the summit of Half Dome.