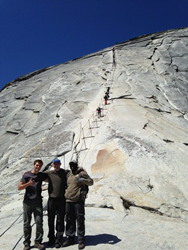 If this video helps keep one person safe on the Half Dome cables, I've done my job. - John P. DeGrazio
Yosemite National Park, CA (PRWEB) May 22, 2014
YExplore Yosemite Adventures has released a Half Dome safety video as a resource for hikers attempting to reach the summit of this iconic peak in Yosemite National Park. Long considered Yosemite's most popular hike, Half Dome summit attempts will be limited to a maximum of 300 climbers per day. Those who attain the necessary permits are encouraged to watch this short recording to learn about best practices on the upper mountain.
John P. DeGrazio, YExplore founder and lead adventure guide, has reached the summit of Half Dome more than 100 times. He believes he has developed reliable techniques that promote safety and increase the chances for success once a hiker reaches the Subdome and then continues on to the cables. "It has been my goal to make a video like this for a while, and I wanted to share some of my insights with the public to help promote a safer environment on the cables. Although there are significantly fewer people allowed to attempt the summit, the cables can get crowded at certain times of the day. My hope is that people can watch this video to help them understand that their actions can affect the safety of everyone around them."
The video is approximately six and a half minutes long and introduces the viewer to scenes from the Subdome and the Half Dome Cables with demonstrations of how to properly follow the guidelines set out by DeGrazio and his team. Upon completion of the cables, sweeping vistas from the 8,842' peak are shared to encourage future explorers by offering the visual rewards that await them. Guided Half Dome hikes are the most popular tours offered by the company. Professional guides share the natural, geological, and cultural history with Yosemite visitors who wish to receive professional guidance on this all-day journey or two day backpack trip. 2014 permits are available on limited dates for interested parties who wish to inquire.
The Half Dome summit should never be attempted during rain and thunderstorms. Granite can be slick when wet and the majority of accidents on Half Dome have occurred during unfavorable weather conditions.
About YExplore
Founded in 2006, YExplore Yosemite Adventures is the only Yosemite Tour Company offering custom guided experiences (Adventure Hikes, Half Dome Hikes, Multi Day Backpack Trips, Nature Walks, Birding Walks, Wildflower Walks, Snowshoe Hikes and Photography Workshops) 12 months a year. Their mission is to encourage travelers of all ages to get outside and make a connection with nature and wilderness through educational outdoor adventures that inspire personal growth while developing a deeper understanding of conservation and stewardship. They are a socially responsible company that implements Leave No Trace principles on every outing to minimize their impact in nature and ensure that the ecology of the region will not be compromised. John P. DeGrazio is the company's founder and continues to lead Yosemite trips with visitors of all ages from around the world.