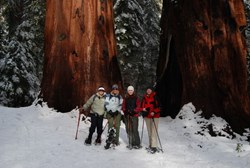 Whether you choose Yosemite, Yellowstone, or any other park; it is important to make choices of activity that will insure 2014 is a healthy new year.
Yosemite National Park, CA (PRWEB) December 17, 2013
The holiday season is a time for sharing moments of joy with loved ones during festive gatherings filled with the spirit of giving. Holiday dinners are prepared and eaten without a concern for counting calories during many once-a-year family rituals of engorgement. All too often, culinary delights are added to gift baskets that include everything from hot cocoa to holiday cookies. Fitness-minded individuals are often riddled with guilt for eating that last piece of fudge or another crushed candy cane infused chocolate chip cookie for fear of insulting family members who spent hours lovingly laboring away in the kitchen to prepare such extravagant treats. John DeGrazio is the lead guide for YExplore Yosemite Adventures, and he has devised a way for holiday revelers to have their fruit cake and eat it too this winter.
"The holidays are about giving and receiving. And eating," DeGrazio shares. "We often force down that extra piece of pie despite feeling overstuffed rather than insult an already emotional Aunt Mary. My weight used to fluctuate by over ten pounds every December because I didn't have the heart to say no to all the wonderful dinners and desserts I shared with friends and family. That's when I developed this plan to stay healthy while indulging a little more often than I care to admit." Following these simple steps will help avoid derailing your fitness plan during the holiday season.
Hibernation is for the Bears
The first mistake many people make with their fitness plan is to take an extended winter break before ramping up workouts in early spring. Why not burn the calories as you add them? Exercising in winter puts you ahead of the curve(s) and leaves you with less fat to burn as the weather turns warmer. Be sure to plan a bike ride or run on the day of your holiday party. You will go into it feeling refreshed with less of a desire to overindulge. And even if you decide to eat a little more, you will have earned it.
Cut Carbs before the Feast
It's important to try to eat less on days of big holiday dinners. It's alright to let it slide on special occasions but at least start the day by cutting carbs and eating healthier. Skip the pancakes and heavy breakfast when you know you'll be having turkey with all the trimmings later. It's also a good idea to avoid chips and other unhealthy snacks on these days. You will more than make up for it with Grandma's lemon meringue pie for dessert.
Life is not a Spectator Sport
College football bowl season seems to get longer every year, and there are definite traps of inactivity you may fall into since the bowls end just as the NFL playoffs heat up. It's important to find activities that keep you moving to avoid also winning your fantasy league couchsurfing title. There are plenty of other activities ranging from intense cardio workouts like pick up basketball to easy tasks of walking the family dog. Just because you graduated to the adult table doesn't mean you can't play a little touch football in the yard with the kids after holiday meals. Either way, there are many choices that can help you stay healthy and avoid becoming part of the furniture.
Visit a Local Park
Whether you live near a municipal, state, or national park, it is your civic duty to visit them often. Hiking is an excellent outlet for relieving holiday stress and burning celebratory calories. Many parks have trails that remain open all year. Winter visitation in our national parks is typically much lower than in summer months so why not plan a trip that will help you explore these national treasures without the crowds? Winter activities in Yosemite National Park include ice skating, skiing, and snowshoe hikes. Whether you choose Yosemite, Yellowstone, or any other park; it is important to make active choices that will insure 2014 is a healthy new year.
About YExplore
Founded in 2006, YExplore Yosemite Adventures is the only Yosemite Tour Company offering custom guided experiences (Adventure Hikes, Half Dome Hikes, Multi Day Backpack Trips, Nature Walks, Birding Walks, Wildflower Walks, Snowshoe Hikes and Photography Workshops) 12 months a year. Their mission is to encourage travelers of all ages to get outside and make a connection with nature and wilderness through educational outdoor adventures that inspire personal growth while developing a deeper understanding of conservation and stewardship. YExplore is a socially responsible company that implements Leave No Trace principles on every outing to minimize their impact in nature and ensure that the ecology of the region will not be compromised. John P. DeGrazio is the company's founder and continues to lead Yosemite trips with visitors of all ages and nationalities.