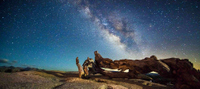 Yosemite National Park, CA (PRWEB) April 30, 2014
Join renowned photographer Jesse Summers for a chance to learn the most difficult and one of the most exciting facets of outdoor photography: night landscapes with the stars overhead. Additionally, you will have the opportunity to capture remarkable sunrises and sunsets, learn about the basics of landscape photography composition, post-processing, and some basic astronomy to help you prepare for your photography experience. You'll re-learn photography's "infernal triangle" of aperture, ISO, and shutter speed as it relates to landscape astrophotography as well as covering the principles behind blended exposure images.
Jesse Summers is a Florida-Based landscape photographer who specializes the newly developing niche of night landscape astrophotography. Composing scenes at twilight on nights where the conditions perfectly align, Jesse is able to incorporate the stunning center of the Milky Way galaxy into his landscape photos through the use of creative long-exposure imagery. These photos are among the most difficult and most rewarding landscape photos to capture, as working at night is essential.
About YExplore
Founded in 2006, YExplore Yosemite Adventures is the only Yosemite Tour Company offering custom guided experiences (Adventure Hikes, Half Dome Hikes, Multi Day Backpack Trips, Nature Walks, Birding Walks, Wildflower Walks, Snowshoe Hikes and Photography Workshops) 12 months a year. Their mission is to encourage travelers of all ages to get outside and make a connection with nature and wilderness through educational outdoor adventures that inspire personal growth while developing a deeper understanding of conservation and stewardship. They are a socially responsible company that implements Leave No Trace principles on every outing to minimize their impact in nature and ensure that the ecology of the region will not be compromised. Jesse Summers is the company's lead astrophotographer and continues to lead Yosemite trips with visitors of all ages from around the world.