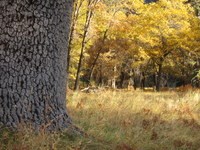 We feel very fortunate to be allowed to spend our days in this beautiful American treasure. We never lose sight of that and times like these help us realize how truly magical this place is.
Yosemite National Park, CA (PRWEB) October 31, 2013
Yosemite National Park is open and back in the business of exciting visitors and sparking the imagination of all who enter. "This is one of the the best fall color displays I have ever witnessed in the Valley," claims John P. DeGrazio, owner of YExplore Yosemite Adventures. DeGrazio is appreciative that he may, once again, lead tourists through the park on his guided Yosemite hiking adventures. "It has been a rough couple of months," continues DeGrazio who remains positive despite lost business due to the recent combination of the Rim Fire and government shutdown. "We feel very fortunate to be allowed to spend our days in this beautiful American treasure. We never lose sight of that and times like these help us realize how truly magical this place is." Fall has transformed the tree lined Merced River into a glowing spectacular display of fall color as maples, willows, oaks, and dogwoods impress travelers at every turn. Those who traverse the Valley floor are greeted by granite monoliths engulfed by golden hued California Black Oaks in and around El Capitan Meadow and continue to line the entire seven mile stretch of road.
YExplore also leads half and full day Yosemite landscape photography classes that allow photographers of all experience levels a chance to walk through these meadows to compose iconic images of Yosemite landmarks like Half Dome, El Capitan, the Cathedral Rocks along with Bridalveil and Yosemite Falls among many other geologic features of the Valley once known as Ahwahnee. These mini workshops are led by veteran local Yosemite photographers who comprise the faculty of the company whose mission is to encourage travelers of all ages to get outside and make a connection with nature and wilderness through educational outdoor adventures that inspire personal growth while developing a deeper understanding of conservation and stewardship. These experiences also strive to influence participants' development of their own artistic expression through use of cameras to strengthen that appreciation for the park.
Early October snowfall has blanketed some of Yosemite's high peaks to further excite outdoor enthusiasts on their recent visit. Much of the High Sierra is currently covered in powder which will enhance any landscape image. With mild temperatures throughout October and the first couple weeks of November, many fortunate travelers have also witnessed the rebirth of Yosemite's waterfalls. Mr. DeGrazio observes "After several dry months, we are very eager to welcome the return of the falls." YExplore hosts their annual Yosemite Twin Valleys Waterfall Workshops May 2-5, 2014. "We hope this is a harbinger for a great waterfall season. As an official anniversary event for the 2014 Yosemite Land Grant 150 year celebration, we are anticipating high visitor turnout for our free presentation about how art shaped the national parks followed by art, nature, and photography workshops throughout that week in Hetch Hetchy and Yosemite Valley." May is typically the best month to observe these magnificent attractions.
Now is a perfect time to visit Yosemite and its surrounding gateway communities to capture photos of the changing seasons.
Founded in 2006, YExplore Yosemite Adventures is the only Yosemite Tour Company offering custom guided experiences (Adventure Hikes, Half Dome Hikes, Multi Day Backpack Trips, Nature Walks, Birding Walks, Wildflower Walks, Snowshoe Hikes and Photography Workshops) 12 months a year. YExplore is a socially responsible company providing educational services that follow Leave No Trace principles to minimize their impact in nature to ensure that the ecology of the park will not be compromised. John P. DeGrazio is the company's founder and continues to lead Yosemite trips with visitors of all ages and nationalities.