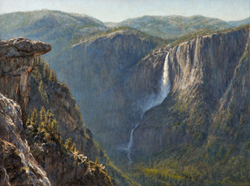 After my first visit, in the autumn of 1871, I have always called it the Tuolumne Yosemite, for it is a wonderfully exact counterpart of the great Yosemite. -John Muir
Yosemite National Park, CA (PRWEB) April 24, 2014
Join renowned artist James McGrew as he presents an informative historical perspective "How Art Shaped the National Parks" on Friday May 2 at 7pm in the Cliff Room at the Yosemite Lodge at the Falls. This one hour program celebrates a 150 year history of what is now Yosemite National Park and discusses the influence of artists on the protection of wild lands across the United States. He discusses stewardship and the ability to raise awareness created by some of the most influential artists including Thomas Ayres, Albert Bierstadt, Carleton Watkins, and Ansel Adams. This program will be open to the public.
"How Art Shaped the National Parks" is an official Yosemite 150 Year Anniversary Event and part of the Yosemite Twin Valleys Waterfall Workshops from May 2-5, 2014. A series of nature tours along with painting and photography workshops will be held all weekend in Hetch Hetchy and Yosemite Valley. James McGrew will lead an introductory nature walk on May 2 at 10 am in Yosemite Valley to be followed by his free slide program that evening. On the following days, painters, photographers and nature lovers will have the opportunity to join some of Yosemite's finest art instructors and naturalists during these full immersion experiences that occur during peak waterfall season in Yosemite Valley. Please call (209) 532-7014 or visit the YExplore website for more information about the fee based programs that are open to the public.
About YExplore
Founded in 2006, YExplore Yosemite Adventures is the only Yosemite Tour Company offering custom guided experiences (Adventure Hikes, Half Dome Hikes, Multi Day Backpack Trips, Nature Walks, Birding Walks, Wildflower Walks, Snowshoe Hikes and Photography Workshops) 12 months a year. Their mission is to encourage travelers of all ages to get outside and make a connection with nature and wilderness through educational outdoor adventures that inspire personal growth while developing a deeper understanding of conservation and stewardship. They are a socially responsible company that implements Leave No Trace principles on every outing to minimize their impact in nature and ensure that the ecology of the region will not be compromised. James McGrew is the company's lead naturalist and continues to share Yosemite experiences with visitors of all ages from around the world.